MEET ALEXANDER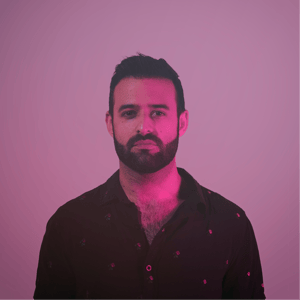 Alexander Curnow was a bar manager at a restaurant in downtown Nashville and a full-time musician when he became interested in web development. His band manager often shared cool website features he was building and Alex would ask questions about it. Admitting he didn't know the answers to his questions, Alex's manager gave him resources to learn more about web development on his own, but Alex tucked it away without pursuing it.
A year or two later, he found himself at his friend's show and as they were catching up, he learned his friend had recently graduated from Nashville Software School (NSS) and was now a web developer. That same week a new employee at the restaurant shared that he was attending NSS. Both of them encouraged Alex to check it out.
Though he wasn't sold on the idea just yet, Alex knew hearing about NSS from two people in the same week meant it was worth exploring. He started with a 7-day free trial of Codecademy, which turned into a 3-month subscription where he was spending 10-15 hours/week learning to code. "I decided it was time to accelerate my learning, so I applied to NSS," he explained.
THE NSS EXPERIENCE
As a member of Full-time Web Development Cohort 39, Alex loved the team-based atmosphere, sharing, "Because it was so team-based and simulated real world agile programming methods I felt like a professional developer from the beginning. I also have to [mention] the incredible staff, instructors, and my amazing teammates. I feel truly connected to the school and am already wondering how I can contribute to its success and the success of future students."
Trust the process. Everything you learn builds off of the previous things you learned, and it all comes together, slowly over time, to make you a full stack developer with real-world agile development practices under your belt.
CAPSTONE PROJECTS
The idea for Alex's front-end capstone project came during a conversation with his wife. They were discussing the importance of playtime with their cat to prevent annoying behaviors, like jumping on the computer while you're working or chewing on your belongings, when his wife suggested Alex create an app to track their activity time with the cat...she called it Cativity. With a great name like that, Alex knew he had to build it. With the app, cat owners can add information about their cats and activate a timer to keep track of how long they played. After the session, they can add what toy they played with and any notes they would like to remember about the session. Cativity is built with JavaScript, React, JSON Server, Material UI, and Cloudinary.
Sender, a social app for climbers, is Alex's full stack capstone project. Before attempting a climb, climbers spend a lot of time studying the wall to determine the best way to the top. With climbing venues restricting how long you can spend at the facility because of the pandemic, Alex wanted a way to study the wall from home so he could spend more time climbing. Climbers can share a picture of a climbing wall they've successfully climbed and mark the holds they used to get to the top. Other users can see their photos and study the climb from home before trying it themselves in person or looking at the solution provided in the app. Sender was built with React, ReactStrap, C#, .NET Core, SQL Server, and Cloudinary.
HIRE ALEXANDER
Alex is already paying it forward to current NSS students. Just two weeks after graduation, he hosted the weekly Common Table where alumni are available to meet over Zoom to share their experiences at NSS, the job search, and working as a developer. Alumni are also available to help troubleshoot code if a student is stuck. Alex would like a full stack job, but enjoys front-end and back-end development, so he'll be happy wherever he lands.
Learn more about Alex by visiting his website or listening to his podcast.
---
Check out all the recent grads on Web Development Cohort 39's class website and hear the graduates share their experience at NSS and capstone projects in their podcasts below.