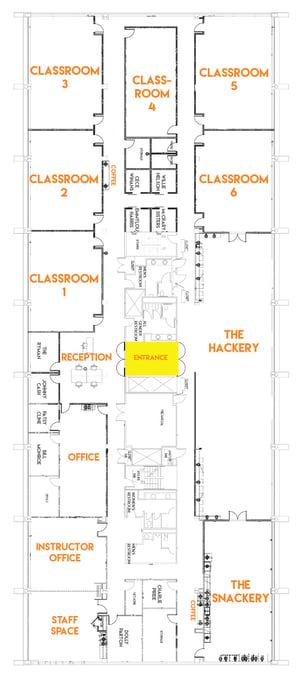 Normally, we give tours to interviewing applicants and guest when they visit our space, but since we can't give you a personal tour right now, we created a virtual experience so you can walk through our halls, see our classrooms, and imagine the space filled with learning minds!
Navigational tips
Maps
When you enter NSS, you'll find yourself in our entryway as if you just walked off the elevator. If you've never been to NSS, it can be a bit confusing your first time through, so we've included maps in the hallways, like the one here, to help you orient yourself.
Recommended Path
We recommend you head left to start at our reception area and then head down the hall toward Classroom 1. You'll then be able to make a big circle through our hallways and visit each space.
Move Around
Click and drag your mouse or slide your finger on mobile devices to turn around in the space. To move to another room, click/tap the "triple circle" icon. You'll see the name of where you're going when you hover over the icon. This experience works great on mobile!

Info Icons
Click on the info icons to learn more about the space you're in.

Sound On!
Click the sound icon on the right of the tour window to hear a greeting! We will be adding student stories to our classrooms and Hackery spaces soon!
Start Exploring NSS
Take your tour by clicking the image below: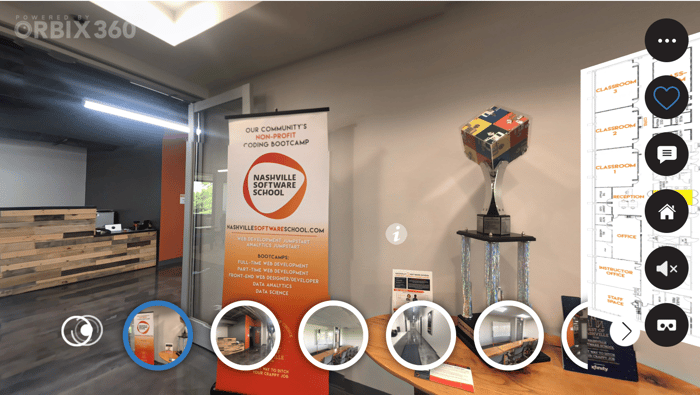 Have feedback on the virtual tour experience? Let us know.