MEET ALYSSA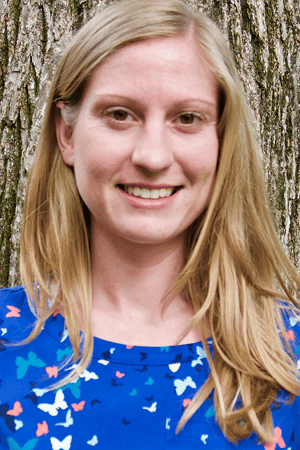 Alyssa Nycum of Web Development Cohort 38 was living out her childhood dreams as a Zookeeper and educator. But after 10 years in the competitive field, she was ready for a job with more stability. While working a side job a few years earlier, Alyssa was tasked with learning SQL to pull reports and make business decisions. She managed to teach it to herself and enjoyed the work, sharing, "it was a skill like no other I had learned before! The constant problem solving and learning of new skills is what really attracted me to becoming a software developer."
Around the time Alyssa started exploring new career options, a co-worker graduated from Nashville Software School (NSS). After talking with her about her experience, Alyssa was ready to make the leap and was glad NSS taught full stack development. "I didn't know enough about the different languages to know if I'd like front-end or back-end better," she explains. "So I've really enjoyed getting the chance to learn both!"
THE NSS EXPERIENCE
Alyssa enjoyed the collaborative and supportive environment of her cohort, particularly when it came to group projects. "The instruction team always says that you do the most learning during the group projects, and it's definitely true," she exclaims. "I thrive the most in a collaborative team environment, and every group project that I did, I was incredibly thankful for my amazing classmates."
Alyssa's biggest obstacle was getting comfortable with making mistakes. As a zookeeper, mistakes were not permissible, as one small mistake could result in injury to a person or an animal. She explains, "at first, it was very hard for me to let go of that perfectionist mindset, but another thing our instructors told us was to get comfortable with being uncomfortable. So I had to let go of the fear of making mistakes because you can learn the most from the mistakes that you make."
Your cohort at NSS is your family. They are there as a support system, and they are there for you to learn from.
She encourages students to utilize their classmates. While it's tempting to work on your own, particularly in a remote setting, working together in a Zoom room where you can ask questions as you run into trouble gives you the chance to help each other get unstuck. "Use that support system - it helps improve morale," she exclaims."
CAPSTONE PROJECTS
Alyssa was inspired by her love of rock climbing for her front-end capstone project. BetaData allows climbers to keep track of which climbs they've completed, rate each climb, and make notes on how they accomplished a hard move and other information about the climb. That information is known as beta in rock climbing, hence the name for her app. BetaData was built with React.js, JSON Server, reactstrap, Moment.js, and Chart.js.
Alyssa built Act Natural to help zookeepers track enrichment activities. Enrichment activities encourage natural behaviors in the animals and improve their overall welfare by stimulating their minds. Act Natural is a mobile-friendly app that allows zookeepers to keep track of all areas of enrichment in one place. They can collaborate with their teams to manage animals, enrichment items, and log enrichment sessions. Zookeepers can also submit new items for approval by the veterinarians on staff. "It is a full-stack Django web application that queries a SQL database using Django ORM. I used Materialize CSS for styling and Pillow for Python for photo upload," she explained.
HIRE ALYSSA
Now a graduate, Alyssa has no plans to slow down her learning. "I'm going to rebuild BetaData with a Django REST API for the back-end and add a few more features to Act Natural so I can deploy it for Keepers to use," she shares. "I'm also going start learning C#/.NET and then move on to other JavaScript frameworks and AWS." She is open to front-end and back-end opportunities, but would love to find a full stack position.
What excites me the most about technology is how it can not only be used to improve people's lives and make jobs more efficient, but it can also be used to make the world a better place. That's what I want to be a part of."
Learn more about Alyssa by visiting her website or listening to her podcast!
---
Check out all the recent grads on Web Development Cohort 38's class website and hear the graduates share their experience at NSS and capstone projects in their podcasts below.