MEET BRITTANY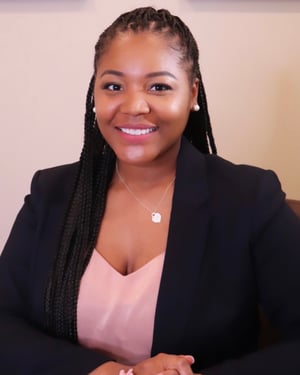 Brittany City of Data Science Cohort 3 has worked for three years as a Health Policy Analyst at Vanderbilt Institute of Clinical and Translational Research. She works closely with physicians, geneticists, biostatisticians, bioinformaticians, and data scientists on interdisciplinary National Institutes of Health (NIH) funded projects. "These projects focus on personalized medicine, genomic sequencing, health outcomes, and phenotype risk scores; which gives me a front seat on novel innovations and groundbreaking research that I would like to contribute to through a career in data science," she explains.
THE NSS EXPERIENCE
Brittany found Nashville Software School (NSS) while researching data science programs in Nashville. She shares that she chose NSS for it's reputation as an "intensive program and graduates have become successful data scientists throughout the Nashville technology community."
Brittney enjoyed working with her classmates who brought experiences from around the world and many different industries.
Data science is a new career track within itself right now, which gives a lot of diversity which can be viewed as the greatest strength. I would advise students to take advantage of this diversity by meeting data scientists from various fields/backgrounds and continuing to develop soft skills that will transfer to any career."
Her classmates also stepped up to help when she was affected by the March 3rd tornado that devastated many in Middle Tennessee. "Soon after, the coronavirus pandemic led to remote learning," she shares. "My instructor was very understanding of my situation and classmates helped tremendously on team projects."
CAPSTONE PROJECTS
What Is Good Music?
As a Nashville native, Brittany wanted to bring in a Music City theme to her mid-course capstone project titled, What is good music?: An in-depth analysis of Grammy Award Winners and Billboard Hot 100 Songs over 60 Years. She wanted to understand what made music "good" in the eyes of the Recording Academy who presents the Grammy Awards and if the winning songs reflect the popularity of the song as identified on Billboard's Hot 100 Songs chart.
As to her findings, Brittany shared, "There really was no true correlation," she states, "There's a bit of a trend, but there are songs that win Grammys, that after [they win] is when the [Billboard] success comes."
To explore her data she used R, along with processing data tools tidyverse, lubridate, timeDate, and reshape2. She created her visualizations with ggplot2 and plotly and presented her findings in an R Shiny dashboard. Visit her Shiny app to explore her findings.
Color of Coronavirus
For her final capstone project titled, Color of Coronavirus: A Natural Language Processing Approach to Examining Coronavirus Research in African/African American populations, Brittany wanted to work more in depth with Natural Language Processing. With her healthcare background and interest in bioinformatics she chose to apply NLP to the COVID-19 Open Research Dataset (CORD-19) to "examine differences in coronavirus-related research done on African/African African American populations than other races/ethnic groups." She also created a search tool that summarizes the African/African American coronavirus-related publications based on the search term.
Through her analysis, Brittany learned "there is significantly less coronavirus-related research done on African/African Americans than other races as a whole" and much of it "has been about ebola and may have been completed in a microbiology lab."
Brittany used a range of tools for this project.
Language: Python
Data Format: JSON
Data Processing: Pandas, Numpy, Regular Expression
Natural Language Processing: NLTK, Gensim, SpaCy
Machine Learning: Scikit-learn
Topic Modeling: latent Dirichlet allocation (LDA)
Data Visualization: Matplotlib, Plotly
Interactivitiy: IPython widgets (ipywidgets)
Markup: HTML
To learn more about her process and findings, you can view her project and presentation on GitHub.
HIRE BRITTANY
While searching for her first data science job, Brittany is working alongside a local meetup to help connect nonprofit organizations and volunteers for the coronavirus pandemic. "We are working to create an app or website that volunteers can use to sign up to help nonprofits in Nashville during the pandemic," she shares. Brittany is also hoping to continue her education with a Masters in Computer Science, to pursue bioinformatics where she will be able to apply her data science skills and her background with clinical and translational research.
Learn more about Brittany by visiting her LinkedIn profile and listening to her podcast!
---
Check out all the recent grads on Data Science Cohort 3's class website and hear the graduates share their experience at NSS and capstone projects in their podcasts below.