The early morning tornado on Tuesday impacted many in our Nashville community. While NSS did not sustain any damage, some of our students, staff, and alumni have damage to their homes and cars. Shortly after the tornado rolled through, the NSS Slack group came alive with students and alumni checking in on each other. By the time daylight arrived, our community was asking how they could help.
How To Help
Give Your Time
In the coming days and weeks, Hands on Nashville (HON) will coordinate volunteer efforts to help our neighbors. They just announced their plans for organized tornado damage clean-up efforts this weekend. There will be two shifts on Saturday and Sunday, 9 am - 1 pm and 1 pm - 5 pm. To volunteer for these shifts as an individual, you may register on their website.
NSS has connected with HON for ways we can give our time together. We will share how you can get involved with that once we have more details. Be sure to follow us on Facebook, Twitter, or Linkedin if you are not in our Slack community and would like to participate.
The Red Cross opened six shelters in Tennessee last night and is distributing food and relief supplies. The Red Cross is looking for trained Red Cross volunteers. If you would like to become one of their trained volunteers, you can apply on their website.
Donate Goods
The Community Resource Center is in need of personal hygiene items, bleach, trash bags, gloves, box cutters, baby and toddler clothes, formula, underwear, bras, batteries, and baby food. You may donate items directly to them at 218 Omohundra Place. We will also have a collection box at NSS and will bring it to the Community Resource Center on Tuesday.
Second Harvest Food Bank is collecting non-perishable food items,. The items most in need right now are pop-top canned meats, veggies, and fruit, ready-to-eat soups and stews, peanut butter and crackers, cereal, and energy bars. Donations may be dropped off in the Second Harvest Food Bank donation barrels in the front of your local Kroger store.
Donate Funds
Money is another great way to help a community in need. The Middle Tennessee Emergency Response Fund through the Community Foundation of Middle Tennessee will help support non-profits providing vital services now and long-term response efforts. NSS is making a $1000 donation to The Community Foundation of Middle Tennessee Emergency Response Fund on behalf of the entire NSS community to help in some small way with the recovery effort. Contributions can be made to their Emergency Response Fund on their website.
If you would like to make a donation to the Red Cross, visit redcross.org.
Helping Hands
With classes cancelled for the day on Tuesday, a few members of Web Development Cohort 36 wasted no time finding a way to pitch in.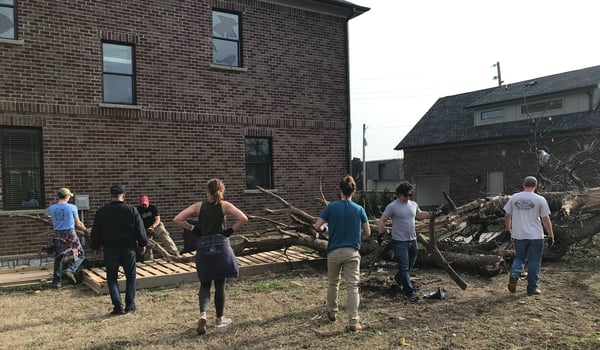 Members of Cohort 36 help the community remove a fallen tree.
Pictured: Ryan Bishop (far left), Matthew Blagg (second from right)
Not Pictured: Michelle Johnson, John Long
Photo by Julian Garcia
They were not the only ones lending a hand with the clean-up. Students, alumni, and staff were helping their neighbors all across town. And many will continue to do so in the days to come.
Do You Need Help?
If the storms impacted you, please reach out if there is anything we can do to help you.
If you are a Nashville non-profit and need tech help to get back on your feet or to aid with your disaster relief efforts, please reach out GeekCause or info@geekcause.org.
Let's all pitch in to help our neighbors begin to put their lives back together. The more we work together, the faster we all recover.