As Nashville Software School (NSS) instructor Brenda Long geared up to teach the UI & UX portion of our second front-end design and development cohort, she came up with the idea to incorporate a real-world project into the curriculum. Our Web Development bootcamps simulate a mock-company environment and our Analytics + Data Science bootcamps use real data for their projects, so working on a real project to apply user experience principles was a natural extension to what we already do in other bootcamps.
Brenda spread the word among the NSS staff for ideas and Mo Silvera, one of our junior instructors, mentioned an app that the Tennessee Immigrant & Refugee Rights Coalition (TIRRC) was looking to build. Brenda and Mo met with Jorge Salles Diaz of TIRRC to learn more about the project and to see if it would be a good fit for the class.
The Problem: Finding A Mentor
There are over 14,000 immigrants in Davidson County and 2,000 - 3,000 of them are ready to become a naturalized citizen of the United States. To be naturalized a person must be over the age of 18, be a permanent resident for at least 5 years, speak English well enough to take English and civics exams, and have the financial means to cover the costs associated with the naturalization process.
TIRRC had surveyed those ready to begin the naturalization process and learned immigrants find the process intimidating and they would like to have a mentor to guide them through the process. Their idea is to create a web application that will connect recently naturalized citizens as mentors with immigrants who are ready to begin the process (mentees). By connecting those just starting the process with a mentor who has been through it, the mentee can get a first-hand look at the process and have someone who will guide them through the process.
The class had two weeks to conduct their research, validate the idea, create their prototypes, and present their case studies to TIRRC.
The Challenge Statements: How might we connect mentors to mentees?
In January, Jorge presented the project to the class. He shared the survey results, what they were looking for with the application, and their website. The students were excited to work on a real project for a local non-profit.
"They really dove in to understand the users. Their research about the whole naturalization process, the steps involved; they dug deep to understand the issue." - Brenda Long
The class split into two teams for the project and Jorge connected them to several naturalized citizens for their user interviews. The teams also reached out to NSS students who would soon go through the naturalization process themselves for more user interviews. Team 1 included Gradi Ellis, Summer Liddington, Quin Smith, Chandler Turner. Team 2 included Leigh Rogers, Taylor Carroll, and Sage Klein.
"Our team approached the problem by diving into the research phase head first. We thoroughly listened to Jorge's personal experiences with the naturalization process and what TIRRC was trying to accomplish with their latest program. TIRRC was very helpful in that they brought survey results to the table from the beginning which, combined with the user interviews painted a very complete picture of who would potentially be using TIRRC's new app. This helped us narrow our focus when creating initial mockups for user testing." -Taylor Carroll
After conducting their user research, the teams identified their challenge statements:
Team 1:
How can we introduce members of the TIRRC community to a new mentorship program and build a more connected environment for immigrants and refugees in the Greater Nashville area?
Team 2:
How might we provide a platform to connect Nashville residents ready for citizenship with naturalized citizens in order to help immigrants overcome barriers and become Americans?
From their challenge statements and user interviews, the teams created journey maps and personas to identify their solutions. While the teams were working from the same resources, they came up with two very different solutions.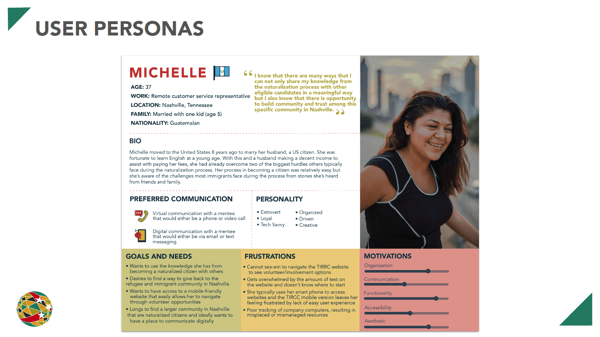 User persona from Team 1 for Michelle.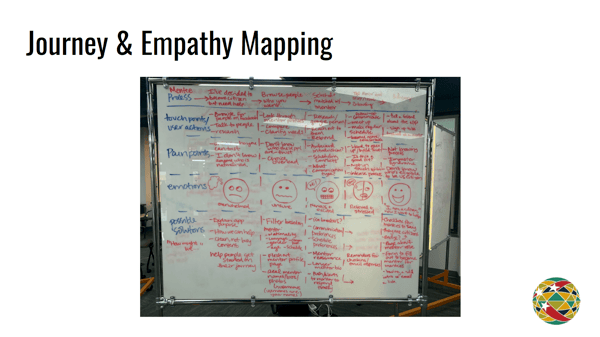 Team 2's Journey & Empathy Mapping
The Solutions: Two Different Approaches
Team 1 zoomed out to look at the problem as a whole, resolving the intimidation factor immigrants face when becoming a citizen, and realized the solution needed to start with TIRRC's website. The website is not mobile friendly and does not offer many resources to guide immigrants through the naturalization process. The team did a website audit and created a new plan for the site's navigation and content. They also included a way to connect mentors to mentees as a part of the website.
Team 1's prototype for website updates to include mentorship program.
Team 2 took the direct route and after doing a competitive analysis, created an app to connect mentors to mentees.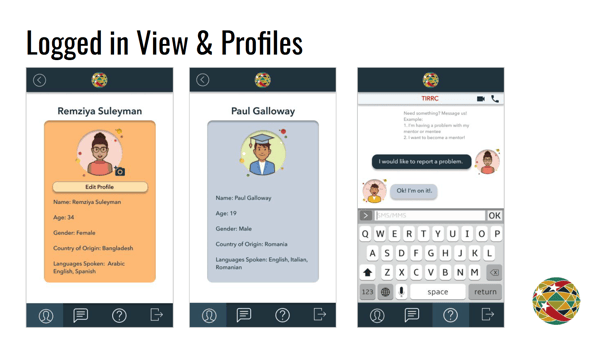 Team 2's prototype for their mentorship application.
Both teams created wireframes and prototypes to test with users. Jorge again connected them to target users to test their applications. They also tested them with fellow NSS students who were familiar with the naturalization process. The testing process taught both teams more about the users the application is intended to serve.
"We learned how to design a communication platform for a population that needs their privacy protected and will not share their phone numbers or emails. We are really proud of the fact that this need was well-received by the clients during the presentation." -Leigh Rogers
Another interesting finding was how important language was. Acronyms like FAQ (Frequently Asked Questions) did not translate to their audience.
After testing, the teams compiled everything together and presented their case studies to Jorge, Camila, and Rafi. They also offered guidance on the next steps.
TIRRC was pleased with the results. Jorge shared, "Not only were the students' projects exceptionally designed, they were exceptionally presented, too. The students spent considerable efforts to synthesize their work in a way that was clear and approachable for us and created demos that visually exemplified their concepts. Most importantly, each student listened sympathetically to the challenge we're trying to tackle and they legitimately cared about our project to the extent that they went above and beyond in creating solutions that fit the constraints that we provided them with."
You can view their case studies here:
"We had an amazing experience with TIRRC. Everyone was so kind and willing to help us anytime. We were honored to help in the process of building this application to make getting a mentor and becoming a naturalized citizen a smoother, less stressful situation." -Sage Klein
"Working with TIRCC was such a treat for the seven of us. To apply our learnings into a real life problem allowed us to stretch and grow in so many ways. Thus far we had worked on different parts of the UX/UI process but had not streamlined them together. This project allowed us to do just that. We did a deep dive into the problem they approached us with and came to the top with a much larger scale approach to solving it in a more sustainable and synced way. Their team was so excited to hear the ideas we had about how to help their audiences with specific issues, many of the ideas they had never thought of before." - Gradi Ellis
---