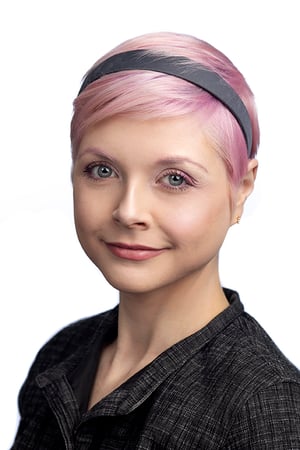 As a teenager, Sage Klein learned to code by building celebrity fan websites on Geocities. One celebrity she made a website for actually visited her website and left a comment in the guest book to watch an upcoming episode and listen for the word chicken, a signal so she would know it was really him. (Listen to Sage's podcast for more on this fun story!) When she was ready for a career change, Sage decided to turn her passion from her youth into her next career.
NSS Experience: Building Relationships
When it was time to choose where to learn the skills she'd need for her new career, Sage chose NSS based on her husband's experience working with NSS graduates. She originally planned to go through NSS's full stack web development program, but after learning that Cohort 35 would split halfway through the program into a full stack web development cohort and a front-end web designer/developer cohort, Sage made the switch from full stack to front-end design/development. She was excited to focus more on the design and user experience of web applications. Reflecting on the past six months, she values the relationships she built during bootcamp. "[My favorite part of bootcamp was] the connections and friendships I have made with my classmates and in the tech community."
Trust the process! You will know more than you think, it's not as scary as it seems and NSS will always have your back!
Capstone Projects
For her front-end capstone, Sage built a makeup organization app called "I wanted a way to keep up with my [makeup] collection and how I felt about it," she explained. "Cosmetic waste is a huge problem in America and I wanted an environmentally friendly app that promoted makeup users to 'HitPan,' use all the product in the container, before purchasing new makeup." Users can add all of their cosmetics to the app, create a wish list, and leave notes so they can remember things like which foundation is the perfect shade. She built the app with JavaScript, React.js, React JavaScript Hooks, and Node/npm.
As part of our Front-end Web Design/Development bootcamp, Sage's second capstone focused on user experience and included user interviews, user testing, journey and empathy mapping, wireframing, and prototyping before beginning to build it. Inspired by her years as a kindergarten teacher, Sidekick is a behavior modification app for teachers and students. One of Sage's pain points as a teacher was their behavior modification system that used cards to tell students publicly when they were misbehaving. Sage explained, "Sidekick intends to alter negative behavioral patterns through the use of positive reinforcement. A student would receive points [for positive behavior] from their teacher throughout the day, then have a Sidekick avatar that they can take to an online store and buy accessories [with their points]. They can show their sidekick off when they put on their new accessories."
For her user interviews, Sage spoke with other teachers to learn about their pain points with the current behavior modification process and students in K-2 to learn what would motivate them to strive for good behavior. She discovered that games motivated the students, so having a character or sidekick that they could add accessories too was a step in the right direction. She built the front-end portion of the app with JavaScript and React. View her prototype on Figma or see her app on GitHub.
Hire Sage!
As Sage looks for her first job in tech, she is strengthening her skills in hooks in JavaScript React through her portfolio website, Adobe Creative Suite, Figma, and mirror. You can learn more about Sage in her podcast.
---
Check out all the recent grads on Web Development Cohort 35's class website and hear the graduates share their journey into development and their experience at NSS in their podcasts below.