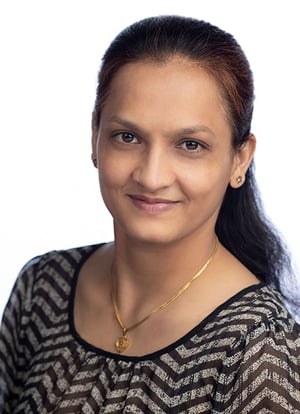 Ripal Patel used a lot of software applications in her prior job and was always curious about the magic happening behind the scenes. When she paused her career to be a stay-at-home mother, Ripal began to explore coding. She was hooked. When she heard about Nashville Software School (NSS), she knew it would be a great way to not only change her career but re-enter the workforce. She joined our part-time web development bootcamp for Cohort Evening 8.
NSS Experience
I chose NSS because of its reputation and nurturing environment. Additionally, it is a huge asset to the Nashville community and offers curriculum with the latest technology.
Ripal shared, "[My] favorite part of going through the program was how all NSS members and teachers were supportive and always available to help when you are struggling. Also, the career team is always available to lead you in the right direction. I am very grateful to all of the NSS teachers, career team, alumni, and all classmates who have helped me to learn and grow in the development field."
Capstone Projects
For her front-end capstone, Ripal created an app to keep track of due dates for bills. EaseOff Bills helps users pay their bills on time and keep track of how much they're spending in each category. She built the application with JavaScript and React with Sass, Reactstrap, and Bootstrap for styling, and Firebase for the database and authentication.
Ripal's back-end capstone, VolunteerWing, helps organizations recruit and register volunteers for events. The organization can create an event and send invitations for volunteers to register. Volunteers can sign up for the tasks and times they're available. She built the application with React, C#, ASP.NET, and SQL Server.
Roadblocks and Advice
"I feel development really is in some ways a long series of roadblocks," she explained. "The part that I enjoyed was overcoming those roadblocks. I think the major roadblocks I encountered were when I started learning C#. Initially, it was difficult to understand back-end programming and it was a missing piece in my full stack development. So I started spending more time learning its basics. As I started gaining more knowledge conceptually, I could see the whole picture of how front-end and back-end languages work together."
NSS has a very friendly environment. So do not hesitate to ask questions at any time. Also, take good notes because as you move down the road of learning, some of the things you forget and referring back to those notes are great resources.
Hired!
Ripal Patel accepted her first development job at a healthcare company. She is excited to combine her healthcare background with her new C#/.NET skills.
Learn more about Ripal on her website.
---
Check out all the recent grads on Evening Cohort 8's class website and hear the graduates from Cohorts Evening 8 and 31 share their journey into development and their experience at NSS in their podcasts below.