We made a lot of contingency plans for our move but could not have predicted that two weeks after moving in, the building would be uninhabitable. What followed was 10 days of stress and hassle but also a great chance to be reminded of the amazing community we live in and serve. Here's a summary of what's been going on the past two weeks as well as a big thank you to our friends that helped us survive it!
On Wednesday, August 7th, we arrived at our classroom facility to learn that the HVAC unit had failed overnight. By mid-afternoon, the temperature on our floor had risen to the mid-80s and it was clear we needed to end classes early. Some moved to coffee shops, and a few brave capstoning students and instructors stuck out the heat through the end of the day.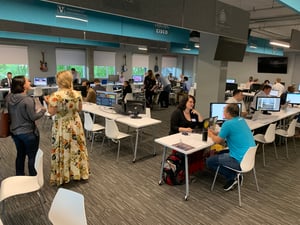 The next day our classes invaded coffee shops across Nashville, and we learned that it would be several days before the HVAC was operational again. One dilemma. Tomorrow was Demo Day, an important day in the lives of our students. We reached out to our friends at the Nashville Technology Council (NTC), and they graciously donated their space for Demo Day. When you move the location of a major event with less than 24 hours notice, you never know if people will show up. But they did. Nearly 60 employers came to talk to our graduates from Cohort 31 and Evening 8! Thank you!!
The fun continued for the next ten days as our nomadic students and staff watched Slack every night to see where they were meeting the next day. Through the support of the NTC and Trevecca Nazarene University, we were able to cover almost all of our classroom needs. By Wednesday, August 14th, the building was over 100°, and our celebratory open house was rescheduled.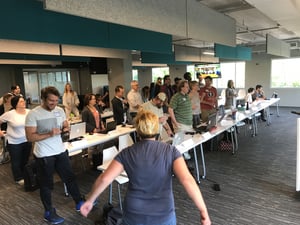 We were thankful to finally be back in the building on Saturday, August 17th, but unfortunately there was a hiccup Monday. In the wee hours of Monday morning, we were notified that the HVAC system was down again, most likely a side-effect from the prior problem. Thankfully, the NTC was able to accommodate two of our day classes who were working on group projects. By late morning the HVAC was back up and running and our evening classes were back in the building. After two weeks of the nomadic life, we're grateful to be back home!
Thank you, students!
During our two weeks of nomadic existence, our ten classes took it all in stride.
We graduated two cohorts. Cohorts 31 and Evening 8 survived the added stress of wondering if and where Demo Day would be. There was a lot of relief Thursday morning when we announced Demo Day was on!
Five cohorts met in locations all across Nashville (Cohorts 32, 33, 34, E9, and Data Analytics 1).
Three classes had their first NSS classes at the NTC (Cohorts 35 and E10 and Analytics Jumpstart).
To our students, thank you for your flexibility and positive attitudes. While we were not always able to send out location information as early as we would have liked, you rolled with it and didn't let it stop your learning!

Thank you to all who donated and offered space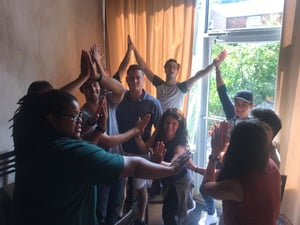 We could not have kept our students learning without the support of the community! And that's an understatement. The NTC was incredibly gracious in providing us every room they had available for ten days! We were able to hold an info session, a Demo Day, and a lot of classes thanks to our long-term friends and partners at the NTC. Thank you to Brian Moyer for unhesitatingly agreeing to support us and for having such a friendly, supportive team. Special shout-out to Cara McCarthy who bore the brunt of our day-to-day juggling of schedules.
Trevecca Nazarene University donated the use of two classrooms for three days. This helped us get cohorts 32 and 34 on track and ready for group projects. John Wark, NSS Founder and CEO shared, "Trevecca's support was a great example of how folks in Nashville don't ask 'why should I help,' but rather, 'how can I help.' Todd Gary, Trevecca's Associate VP of Research and Community Development has been a big supporter of NSS, going back to our first meeting in 2012 in the days when NSS was just getting started. He was on vacation in California when, in the early morning hours there, he got our cry for help. He immediately got the wheels in motion at Trevecca to see if they could loan us some space. By the time Todd got back to Nashville from vacation the next day, we had 2 classrooms committed to us. Thanks to Todd, but also the other folks at Trevecca who helped make this happen, from the Provost through the organization."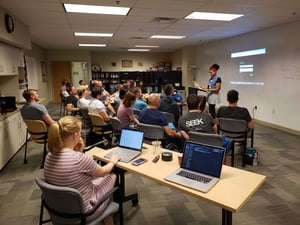 The Tennessee Language Center also donated a room for Cohort 33 to give their front-end capstone soft demos.
We also reached out to several others who offered their space, in case it was needed. Thank you to Ramsey Solutions, Vaco, and Nashville School of Law.
Our students also invaded a lot of public spaces. Thank you to Red Bicycle on Nolensville Road, Frothy Monkey in the Nations, Tempo on Nolensville Road, Portland Brew South, Portland Brew East, ZolliKoffee, The Well Brentwood, and the Green Hills Library.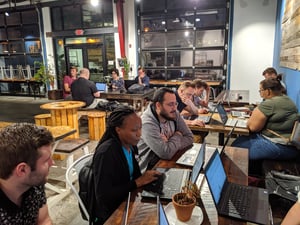 To our community, we have long known that Nashville is a special place. We are grateful to the organizations that stepped up to help us and love being a part of this tech community. We hope that you'll join us for our rescheduled open house on Thursday, August 29th from 5:30 - 8:00 pm. In addition to seeing our new "cool" space, we'll hear from Dr. Amy Harris about the Software Developers in Middle TN report and from a panel, including:
Amy Henderson, President & COO, Nashville Software School
Jerry Rizvi, Director of Application Development, The General Insurance
Chris Spintzyk, Sr. Associate, Direct Placement, Vaco
Karen Williams, CEO/Diversity Recruiter, MinTech
Rob Wilson, AVP, Keller Schroeder
You can RSVP at technologycouncil.com.