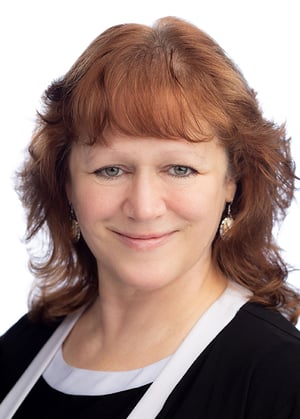 Janet N. Woods has spent most of her adult life with the Army and Army National Guard. As she considered where she would go when she retired from service, Janet focused on what she enjoyed about her job. "I loved making management processes easier by making custom office applications with MS Access," she explained. "Each new position challenged me to identify the relevant data points and automate appropriate reports. I automated imports and processes, created forms and reports based on specific queries. I liked it, and I was good at it, but I didn't have a degree."
While serving in the Army National Guard, she went back to school and got her degree, a Bachelor of Science, Information Technology. In that program, she was introduced to Visual Basic, C#, and Visual Studio. "[It] turns out, I liked that too," she exclaimed.
Janet's NSS Experience
Janet stayed with the Army National Guard for another 18 months after completing her degree. Ready to pursue a civilian job in software development, Janet felt she needed stronger coding skills than the short introduction she had received during her degree program. Nashville Software School (NSS) rose to the top of her bootcamp choices since she could use her GI Bill® benefits and stay with her daughter, who lives within commuting distance. For her, NSS wasn't just about learning C#/.NET; it was also about getting exposure to the civilian tech environment.
As a part of Cohort 30, Janet met several obstacles along the way but put in the work and persevered. "I loved whenever something worked," she shared. "And I loved the people. I did not feel like the complete outcast that I thought I would."
Capstone Projects
For her front-end capstone, Janet built an app she wished was around a few years ago. Where's The Dance? connects square dance aficionados with classes, dances, and special events in their state. The application has two user groups, power-users and regular users. Power-users can enter information about upcoming dances or events, and regular users can filter those entries by state or type of event. She built the app using React.js.
Janet's back-end capstone, called PERSTAT, is geared towards community-wide efforts that bring together multiple organizations, like storm clean-up. A user can add a mission, like "June Severe Storm Clean-up," via a form with the locations of where help is needed. The user also adds the names of the people helping with the mission, including organization employees, volunteers, government officials, etc., and then assign them to the various locations. With everyone assigned, another user can filter the data to see the list of people involved with a specific organization or all of the people working at a location. She built the app with C#, ASP.NET, and Entity Framework.
Hire Janet!
Janet would like to find a job focused on back-end development or data and is continuing to code during her search.
Learn more about Janet's experience at NSS and her capstones in her podcast and on Github.
---
Check out all the recent grads on Cohort 30's class website and hear the graduates share their journey into development and their experience at NSS in their podcasts below.