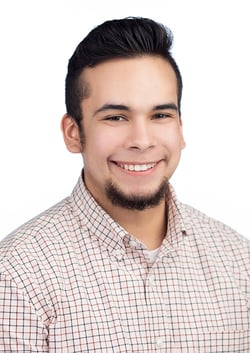 Before attending Nashville Software School (NSS), Jordan Rosas worked as an Outbound Ship Dock associate at an Amazon Warehouse. At night, you could find him learning Python from his couch. After about a year and a half, he felt confident enough in his abilities to start applying to junior developer jobs, but he kept getting rejected. Jordan was set on becoming a developer, so he decided to invest in his education and found NSS.
The creativity, the logic, the endless problems that could be solved using code – I knew I was supposed to be a developer and wanted to get into the industry!
The NSS Experience
When choosing a program to learn web development, Jordan did his research. "A lot of other bootcamps are only three months long, claiming that you can become a full stack developer within three months," he explained. "I found NSS and saw that it was a six-month, full stack course. [NSS has] a great connection with the dev community, is non-profit, and had incredible reviews. It seemed like I would fit in there and learn an unmeasurable amount."
Outside of the skills and knowledge that I acquired in those six months, I made some incredible friends and some great connections in the dev community.
Jordan recommends not comparing yourself to anyone else while you're learning. "People learn at different rates, and you got this! I noticed people freaking out during the program thinking they were behind when in reality all of your code, all of your Github accounts, all of your Linkedin accounts look the same," he said. "Just trust the process and you'll land somewhere." Jordan's positivity and hard work has paid off.
Capstone Projects
Fun fact about Jordan — he speaks six languages! Learning several languages has lead to several great opportunities. So for his front-end capstone, Jordan created a platform that connects people learning a new language. Polyglot Pal connects users to native speakers or other users at the same level. Once connected, users can practice their skills in conversation with one another. He built the app with React.js, Bootstrap, Material UI, and npm packages.
For his backend capstone, Jordan built an app that will help soon-to-be graduates keep our career development team up-to-date with their job search. As students near graduation, they are asked to update our career development team every few weeks on the status of their job search. This update helps our team assist each student in their job search. Students are often so focused on their capstones and their job search that they forget to complete the update.
Jordan's app, One Stop, allows students to track their job search and email updates to the career development team, simplifying the process. He built the app using ASP.NET Core MVC with Entity Framework, Identity Framework, and C#. He is still working on features for the app and hopes to deploy it for student use soon.
Hired Before Demo Day!
Jordan has found the Nashville tech community to be very supportive. Throughout the bootcamp, he stayed involved in the community and kept in touch with the connections he made. He started applying to jobs that the career development team sent out before graduation and accepted an offer before Demo Day. "After going through NSS you realize that you are 100% equipped with the knowledge and skill to be a successful software developer," he shared. "Having a positive attitude and trusting the process is what really helped me out."
Learn more about Jordan in his podcast or on his website.
---
Check out all of the recent grads on Cohort 29's class website and hear the graduates share their journey into development and their experience at NSS in their podcasts below.