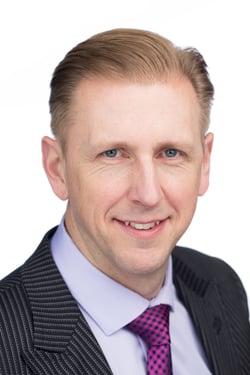 Bryan worked as a court reporter in New York City for 12 years before moving to Tennessee. He was seeking a career change and took a job in sales and marketing while he explored his options. It didn't take long to realize that the job was not a fit. Bryan wanted to return to a career where he could combine his creativity and love of problem-solving – like his first job after college as a graphic designer and web developer. The change he had been seeking was in front of him all along.
Choosing Nashville Software School
Bryan was referred to Nashville Software School (NSS) by a friend who was enrolled in a web development bootcamp at NSS. Bryan did his research which included visiting the school and speaking to others who had been through the program. "NSS came with an excellent reputation," he shared. "It's been truly one of the best decisions I've ever made."
My favorite part of going through the program was the unwavering support of my instructors and classmates, which has reignited my passion for learning as well as helping and encouraging others.
It's common to hit a few roadblocks as you navigate through bootcamp. Bryan shared this advice that he learned as a part of Cohort 28, "Don't isolate yourself when you're struggling to understand something. Seek out help. Don't be afraid to ask questions. Everyone struggles at some point (if not at many points) throughout the program, though not everyone expresses it in the same way."
He faced his own struggles with imposter syndrome but would remind himself of just how far he's come in a short period of time. "Knowing that helps me focus on each little step I take to become a better developer," he explained.
Capstone Projects
For his front-end capstone, Bryan created a basketball shot tracking app. SwishList gives users an easy way to keep track of their shooting accuracy and identify areas of weakness. It's a single-page app with an interactive basketball court map that he created using dynamic CSS. He also used React and a JSON database.
MCA - My Concert App is Bryan's back-end capstone and gives users a fun way to relive the memories of their favorite concerts. Users can keep track of all the concerts they've attended, add notes, rate the show, and upload photos. He built the app in Python with the Django framework and a SQLite database.
From Student To Junior Instructor
After completing his bootcamp, Bryan joined the NSS team as a junior instructor. Our junior instructors are recent graduates who work with us for a year helping students in the classroom and learning to teach. After their year is through, they find a job as a developer. Both our junior instructors and teaching assistants, also recent graduates, are able to connect with current students in a unique way as they were recently faced similar roadblocks. Bryan explained, "having the experience of going through the bootcamp fresh in my mind, I feel I'm prepared to help incoming students through the struggles of learning how to think like a developer."