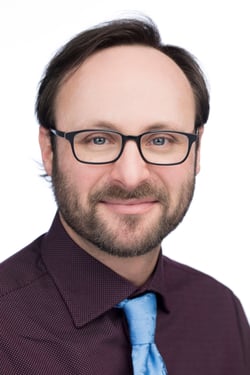 Robby Hecht spent last summer on tour. He had a lot of fun as a singer/songwriter, but was burned out and ready for something new. He knew several musicians that had transitioned to development through Nashville Software School (NSS) and they were all happy with their experience and their new careers. Like many of our bootcamp students, Robby went through Web Development Jumpstart to confirm that web development was the right career path for him and decided to apply for a bootcamp.
The NSS Bootcamp Experience
Completing a bootcamp is no easy task, but it can also be very rewarding. Robby shared, "I basically swung back and forth between intense feelings of accomplishment and deep imposter syndrome. The curriculum moves so quickly that as soon as you have something figured out, you're on to the next topic. While it was very difficult at times, the challenge was exciting and rewarding."
Have faith that you'll eventually understand a topic even when it seems like you're trying to use a brain muscle that you didn't know you even had. A big part of the challenge is that a lot of what you'll learn is completely new.
As a part of Cohort 28, Robby loved working with his classmates and instructor, Joe Shepherd. "It felt like we were on a team from the very beginning," he recalled. He also loved working on his final capstone project, Joke Trainer. Whether it was exploring what Python and Django could do or entertaining his classmates with jokes for the app, Robby enjoyed the whole process. He even admitted that he loved working with CSS to create the cards for the app!
Capstone Projects
Joke Trainer is an application for learning and remembering jokes. It has a large database of jokes that are displayed on animated flashcards and users can write their own jokes and save them to the application. You can search for jokes by category or keyword and "favorite" the ones you like. There is also a Trainer section that helps you practice your memorization skills with your favorite jokes. The application was built with Python/Django and he used Bulma CSS framework for some of the styling.
Robby's front-end capstone was created for touring entertainers. Virtual Agent allows users to create a database of venues and filter them based on the assigned properties. The app allows you to move each venue through the booking process (contacted, pending, confirmed) and create notes along the way. The application was built in React with Bootstrap for some of the styling.
Hire Robby
Robby would love to find a back-end development position. He enjoys working with Python/Django and exploring everything it can do. He also likes SQL and enjoyed the group project that used raw SQL queries.
Since graduating in late March, Robby has deployed Joke Trainer and optimized it for mobile. His is currently learning more about SQL and computer science.
Learn more about Robby on his website.
---
Check out all of the recent grads on Cohort 28's class website.
Hear the graduates share their journey into development and their experience at NSS.