Data Analytics Bootcamp Expands Part-time Programs and Analytics and Data Science Programming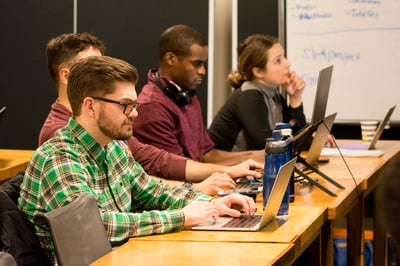 We're excited to announce the launch of our Data Analytics Bootcamp. "We've been working with local employers for three years on understanding the increased demand for a wider range of careers in data analytics and data science," shared John Wark, Founder and CEO. "Our new Data Analytics Bootcamp is our second program in this area and complements our very successful Data Science Bootcamp which launched in 2017."

The Data Analytics Bootcamp will prepare students for careers in analytics and business intelligence, including jobs such as data analyst, business analyst, research analyst, and marketing analyst. Students will learn how to apply statistical reasoning through hands-on training in the most widely-used tools, including Excel, Python, SQL, Tableau, and Power BI. Using real data from local companies in a variety of problem domains, such as healthcare, financial services, digital marketing, supply chain, and retail, students will gain practical experience in all stages of the analytics workflow. They will also learn to present their findings via presentations and storytelling, building reports, and creating dashboards.

"We are actively partnering with a number of local employers to use real-world data and projects in both our data analytics and data science programs," shared Mary van Valkenburg, Analytics + Data Science Program Director and Lead Instructor. "Real-world problems and datasets prepare our students for the job better than anything we could create ourselves."

Students will work on individual and group projects to add to their portfolio of work in preparation for their job search. To support a student's job search, we offer a robust career development program in tandem with our bootcamps to prepare students for job applications, interviews, and offer negotiation. "Our job is not done until our graduates have their first job in tech," shared Wark. As documented by the Tennessee Higher Education Commission, NSS holds an in-field placement rate of 92% across all their bootcamps for 2017-2018.

This program is designed to serve those looking to start in a career in data analytics and those already working in the field but looking to add tools that will make them more effective on the job. No college degree or prior experience is required. For those considering data analytics as a career path, but not quite ready for a bootcamp, our Data Analytics Jumpstart gives you a hands-on introduction to analytics skills and our approach to learning.

The first Data Analytics Bootcamp is part-time for six months and starts May 14, 2019. Classes will meet Tuesday and Thursday evenings and Saturdays. Tuition is $7500 and NSS offers a range of payment options, including Nashville Tech Opportunity Tuition, scholarships, and loan options. We also offers flexible payment options for employers looking to invest in upskilling their current employees.

Applications for the first data analytics bootcamp are open. For nearly seven years, we have helped fill the tech skills gap in Nashville by training over 700 web developers and data scientists. As demand for data analytics grows, we are committed to helping fill the talent gap by providing affordable, accelerated, real-world training on the skills needed for data analytics.