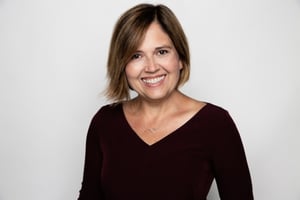 Nashville Software School (NSS) is pleased to announce the addition of Amy Henderson in the newly created position of President and Chief Operating Officer. Henderson brings to NSS a deep understanding of the Nashville tech community, a strong commitment to what NSS stands for, and years of progressively greater responsibility as a software professional, manager, executive, and entrepreneur.
Henderson started her career in tech by working her way through MTSU to earn a computer science degree while a single mother raising two small children. She worked as a software developer after college, then, fast-forwarding a bit, she and partners founded what became one of Nashville's premiere software development consultancies, Firefly Logic. Henderson wore many hats in her time running Firefly Logic, including co-founder, software developer, project manager, salesperson, and CEO. A few years ago Firefly Logic was acquired by LeanKit and Henderson subsequently served in multiple executive roles at LeanKit prior to their acquisition by Texas-based Planview. She has served on the NSS Board of Directors for the past year and two of her children are NSS graduates. She is also the incoming Chairperson of the Nashville Technology Council where she has served on the board for the past six years.
Henderson's role will oversee the day-to-day business operations, including admissions and enrollment, student services, finance and accounting, HR, facilities, employer recruiting and relations, career development, and student placement services. Henderson will also retain her seat on the NSS Board of Directors.
"Amy and I have had the opportunity to work closely together since she joined the NSS Board of Directors," shared John Wark, President and CEO of NSS. "Her addition to NSS gives the school a significant boost of executive management experience that is needed for our next growth stage. I am extremely thankful that Amy has decided that NSS is the right next step in her career."
"I've admired NSS from the early beginnings as they put together the first cohort and became such a vibrant part of the technology community in Nashville," Henderson shared. "Giving people the opportunity to change careers can be life-altering, and I know this is true because I lived it. As a native Nashvillian and a long-time member of the local tech scene, I wholeheartedly believe in NSS's mission to create those opportunities and can't wait to dig in with their talented team."
John Wark assumes the title of Founder and CEO and remains responsible for the overall vision of NSS, as well as existing and new learning programs.