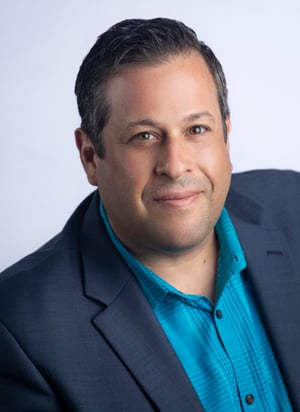 Michael Roberts' love for technology began when he was young. His dad gave him a Commodore 64 and Michael spent time on it day and night creating games. He continued his passion in college, studying computer science and building websites. After graduation, he helped build one of the first e-commerce websites for Guess. After Guess, he moved over to the infrastructure side of tech, building a network and servers for Razorfish.
Eventually, he joined his friend's recruiting company to mentor others in IT. Through his recruiting efforts, he met a few graduates of Nashville Software School (NSS). Michael realized he was ready to return to coding and decided that NSS was the way to get back in.
His favorite part of bootcamp was gaining a greater understanding of determination. "Anyone is capable of achieving anything they want if they truly want it," Michael said. But that determination doesn't come easy.
Michael shared, "Every day I pushed myself to not listen to the voice in my head that said I was too old, a failure, and the voice of my high school teacher that said I would have a hard life having ADHD. That I would fail at long-term commitments, marriages, relationships, jobs, and everything else that makes up what is known of the American Dream. The roadblocks were perfectionism and letting go what we are taught as children on how we should learn. The truth is everyone learns differently. There is no right way or wrong way. Everyone is different."
He has some great advice for current and prospective students:
The world is run by C Students. Take NSS as Luke Skywalker did when he walked into that dark cave in "Empire Strikes Back." You will get through it if you really want it. There is nothing wrong with a good cry once in a while. It's healthy and you will come out of NSS with only something to gain. You may learn more about yourself and that alone will determine if you are on the path of coding."
Michael learned a lot about being a developer, especially during the back half of the program. He explained, "the back-end was about one week of instruction and two and a half months of figuring it out. I learned a lot from the will to learn."
NSS has armed me to be a working coder. [I had] great teachers and a great experience and I am honored to be a part of NSS. This was the most difficult and best time of my life.
Now on the job, Michael feels ready for any situation he may encounter as a developer.
To learn more about Michael, visit his website.
Check out all of the recent grads on Cohort 26's class website.
Hear the graduates talk to our friend, Clark Buckner, about their journey into development and their experience at NSS.