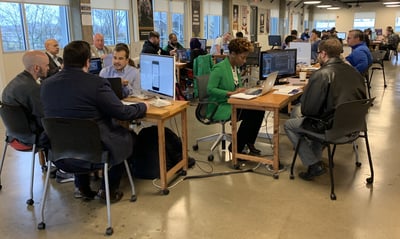 Cohort 26 graduated last week! By demo day, ten of the graduates had accepted job offers and several more may receive offers this week! This cohort was eager to begin their job search and their efforts are paying off.
Thank you to all of you who attended Demo Day! The graduates met with a steady stream of local hiring managers looking to grow their teams. If you're looking to add to your team, we still have graduates searching and would love to connect you.
This cohort of full stack C#/.NET web developers spent six months learning front-end and server-side development:
Front-end development using HTML/CSS, JavaScript, jQuery, React, and lots of other tools, APIs, libraries and frameworks
Server-side development with C#/.NET, including basic integration testing and SQL in a full agile, mock-company environment
To learn more about the graduates and their capstones, visit their class website to find links to their GitHub, Linkedin, and personal websites: nashss.com/cohort26
On Friday our graduates also met with NSS friend and podcaster, Clark Buckner, to talk about their time at NSS and the capstone projects they built. You can listen to their interviews below.
After a busy morning, the graduates gathered for final words of encouragement from their instructors and founder John Wark.
You can see photos from Demo Day in our photo gallery.