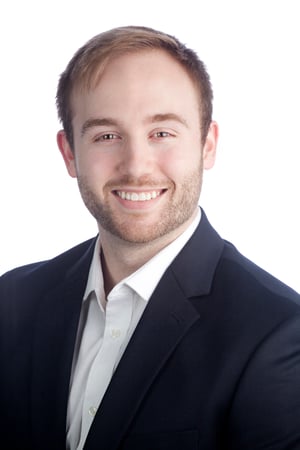 Going through a Nashville Software School bootcamp takes perseverance. That perseverance often starts when a student applies to a program.
Arthur Rankin Smith began his post-high school education at MTSU studying biology. He planned to go the pre-med route but quickly discovered that he was not a fit for the medical field. He decided to leave MTSU until he could find a new career path. He first experienced coding when a friend who was in design school asked him for some help with his HTML/CSS assignment. Arthur helped him go through his code line by line to find out what was different between his friend's code and the instructor's code. Arthur shared, "It was my first look at coding and I asked TOO many questions, I was hooked."
Arthur learned the basics of building a static website through codecademy and was ready to get the training he needed to start a career as a developer. He was planning to return to MTSU when he heard about Nashville Software School (NSS). He explored his options and felt that NSS was a much better option for him than a four-year degree. He applied, but due to the volume of applicants, he didn't get accepted right away. He persisted and started with Cohort 24, our first front-end web designer/developer cohort, one year later.
NSS has a great reputation for creating competent and prepared junior developers.
Arthur's favorite part of the bootcamp was getting to know his instructors and classmates. "Coding is amazing and I love it," Arthur said, "but the journey and the career are only as good as the people there along with you. I have a very close group I get to call friends now because of this school."
Throughout the program, Arthur learned to trust the process. He explained, "it's a very demanding program and it can be overwhelming at times. You just have to keep pushing and trust the process. That was probably the hardest part for me, trusting the process. Because NSS is a six-month bootcamp, there is chaos sometimes and you wonder what NSS is doing with you, but give it some time and keep up your grind and it always makes sense in the end."
He encourages current and prospective students to put in the work. "If you think that NSS is going to hand you a golden key for a developer job, you are very mistaken," he cautioned. "You will have to work hard and it will pay off. The six months will go by very fast. Take every opportunity to learn all that you can and ask all the questions you can think of. Also, treat this like a job. The instructors expect things from you and you need to produce."
He was excited about his first capstone. He shared, "It was the first time I got to show myself and others what I could do." His app, Parenting Conundrum, was inspired by his sister who has an autistic son. She shared with him that she wanted a place to type a question and get a response from real people that have had similar experiences...not just advice from books by "experts." He decided to create a forum for parents where they could share advice with each other. He began the project by creating low-fidelity prototypes to test with his users. He tested with a mix of six moms and dads, including two with special needs children. Those tests revealed a number of design flaws and that some of features he thought were going to be important didn't matter to the parents.
He created a journey map using the insights he gathered during user testing, including the features they wanted and the issues they encountered with the low-fidelity prototype. He made adjustments to his prototype and built the app using Firebase and ES6. He is currently working on version two that will incorporate React and add a few more features.
He began his job search halfway through the program and was busy with interviews during the last few weeks while building his second capstone. Arthur made time every morning to look at job openings. His hard work paid off and he had a job offer a week before the class ended. After securing a job and finishing his second capstone, Arthur focused his time on helping his classmates debug their capstone projects.
To learn more about Arthur's capstones, visit his portfolio site.
Check out all of the recent grads on Cohort 24's class website.
Hear the graduates talk to our friend, Clark Buckner, about their journey into development and about their experience at NSS.