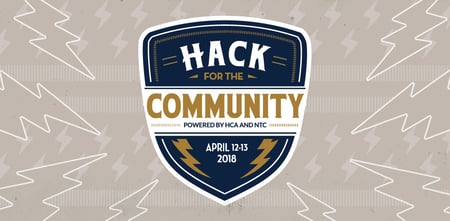 In just three weeks, Nashville Software School and Nashville Technology Council will be buzzing with volunteers for HCA Foundation's Hack For The Community. The 36-hour hackathon will bring together software developers and designers from across Nashville, including some of our students and alumni. Teams will be solving problems for over 20 local non-profits.
Two of those teams will be led on the development side by our instructors Joe Shepherd and Jisie David. Joe will be the lead developer for Doing Good and Jisie will be lead developer for the Cumberland River Compact. There will also be current students and/or graduates on almost all of the other project teams.
John Wark shared the following about our involvement:
NSS is making a major commitment to supporting the HCA Foundation and the local non-profit community through Hack for the Community. We're even turning over our classroom facility to the event for two full weekdays, including rescheduling classes. That's unprecedented for us, but we think this is a great cause and also a great opportunity for the NSS community of staff, students and graduates to engage in support of the broader Nashville community.

We are also planning a follow-up program to provide post-hackathon developer support for a few of the non-profit projects that are not fully completed during the hackathon. This effort will be part of a broader new plan to allow recent NSS grads to get more hands-on development experience through project work with local non-profits. We expect to announce more details of this new program after Hack for the Community during the second and third quarters of this year.
If you want to get involved with Hack For The Community, they are still looking for volunteers!
Don't miss this opportunity to give back to the Nashville community!