During the last weekend of January teams from around the world gathered for the annual Global Game Jam (GGJ), a 48-hour game hackathon. This year's theme was "Transmission." Over 42,000 jammers made 8,600 games at 800 sites in over 100 countries! In Nashville, over 100 game fans gathered to imagine, design, and build 25 different games. Several NSS students and alumni participated in the fun-filled weekend.
Kristen Norris, a student in Cohort 22, shared her experience with us. "When I was asked if I wanted to participate in GGJ, I was hesitant at first since I'm not really much of a gamer," she said. "I ultimately decided that I shouldn't let that get in the way of participating and went into the weekend without any expectations. This allowed me to be open to learning more and enjoying myself."
Kristen helped with programming and design along with fellow NSS students and alumni. Their development skills were complemented by other team members with design, art, and audio skills. She shared, "they were great to work with and were key in creating the artwork we used, helping with level design, and creating all the sounds we used in our game."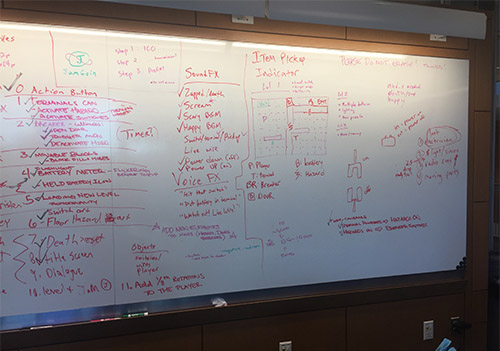 Her team built a game called Electro-King: The Electrocutioning using JavaScript and Phaser. The weekend gave her an opportunity to learn about using Phaser and the process of creating a game. NSS students and alumni on the Electro-King team were Matthew McCord (alumnus), Keith Davis (Cohort 22), Kristen Norris (Cohort 22), Max Wolf (Cohort 22), and Tim Conner (Cohort 23). You can check out their game and repository at GlobalGameJam.org.
Other NSS participates included Ryan Brisentine (Cohort 24) and Sean Williams (Cohort 22).