UPDATED NATIONAL PROJECTIONS PROJECT HIGH GROWTH OVER NEXT 10 YEARS
There was more good news recently regarding the prospects for continued growth in demand for software developers. The U.S. Bureau of Labor Statistics (BLS) released their updated national Employment Projections - 2016 to 2026 in late October. These employment growth projections are widely used to analyze job growth prospects and trends.
Software developer jobs of various sub-types have had strong growth prospects in the BLS projections for the past several sets of projections and the updated projections through 2026 continue that very strong trend. They also signal that growth in software developer jobs (and IT jobs in general) will continue to outstrip the supply being generated by university computer science and IT degree programs.
In terms of absolute numbers of new jobs, application software developer is the fifth fastest growing job category in the entire survey with a projected 253,400 new jobs being created between 2016-2026. Here's a table from the BLS Occupational Outlook Handbook showing the top job categories in terms of most new jobs.

In terms of rate of growth in percentage terms over the ten year period, 2016-2026, application software developer is the ninth fastest growing at 30%. Here is another table from BLS showing the top jobs in terms of rate of growth.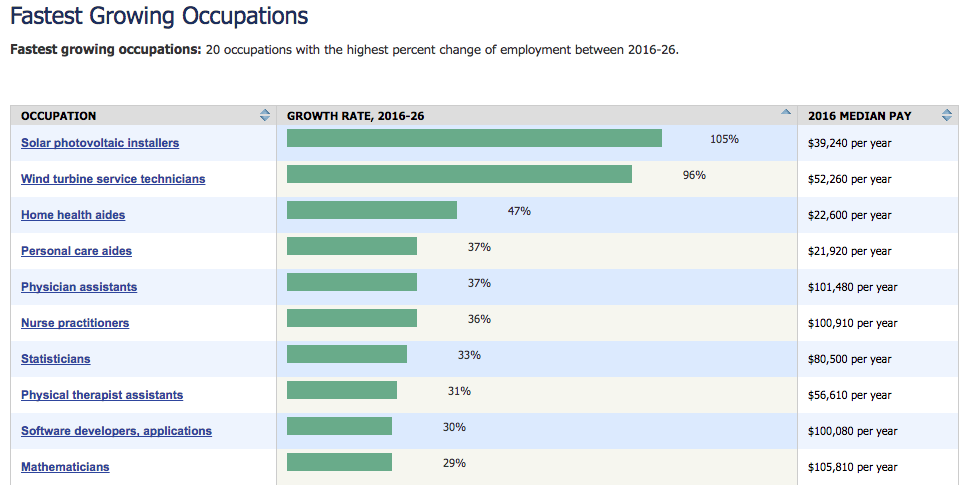 Since the majority of our NSS grads go into positions that generally fall under the "software developer - applications" category as defined by BLS, these new projections continue the positive forecasts for solid career prospects for successful NSS grads. Certainly there will be ups and downs in demand in response to local and national economic cycles but the long-term trend continues to be quite strong.
Out of curiosity, I looked to see if BLS has started to recognize Data Scientist as a separate job category. Unfortunately, this year's report does not. However BLS has in the past noted that this is a fast emerging field that was not yet recognized with its own job category but was lumped into a range of other mathematical and analyst job classifications. Given that we can reference hundreds of open data science jobs posted by employers across the country, it would be great to see BLS start to track this new job category. We are definitely seeing strong growth in data science here in Nashville.