FROM JOB FAIR TO TALENT SHOWCASE
Another post in our 5th anniversary series of posts - looking back, taking stock, looking forward. Check out our other posts in this series.
Tomorrow is Demo Day for Cohort 19 at NSS. Demo Day is a big deal here - it marks the graduation of another cohort of students and it marks the formal kick-off of most grads' job searches. It also gives us a chance to showcase to the community our newest grads, what they've learned, and what they can do with those skills.
However, today's Demo Day was not the way we originally released our grads into the wild. It's something that evolved out of experience and trying other things. In that sense it's like so much of what we do - it's driven by experience, by feedback, and by trial and error. In other words, it's driven by learning. Which seems somehow appropriate, right?
When we started NSS we needed to do something at graduation time to help students transition into their job search. We knew employers wanted a way to meet students in some organized way. So starting with those two thoughts we created a job fair/interview day event for Cohort 1 held on the Saturday after the last day of class. It looked a lot like a traditional job fair with employers having tables and an interview schedule and grads circulating between employers. We were able to to accommodate grads' wishes by giving them a way to prioritize a few companies that they wanted to talk to and guaranteeing that all grads would get to talk to their top 3 employers.
That first Demo Day was hosted at Emma in their newly opened Bistro space (big thank you to Emma - we made frequent use of the Bistro during our first 18 months). It worked well enough with a small graduating class and a handful of employers. The second Demo Day was run pretty much along the same lines. Again, workable but not as productive as we would have hoped - not as much growth in employers as we had hoped, much more logistically challenging with a full graduating class. And we started to hear feedback from employers and students that suggested that some evolution in our event format might be nice. However, we ran the third graduation along the same job fair lines. Just didn't work well at all. More feedback, more learning, and a realization that it was broke and needed fixing. That led to the transition to a different event format.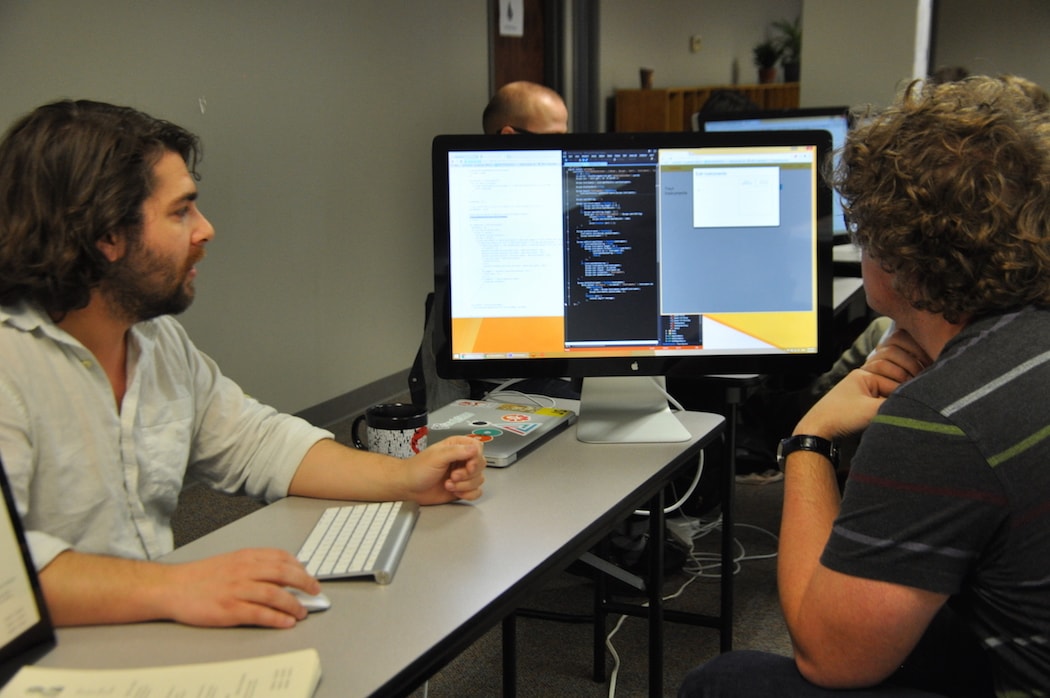 Employers had mentioned that they really didn't like the Saturday event and thought is was probably reducing the turnout for the event. They also suggested that we find a way to give them more flexibility in how much time they spent with individual students - the ability to briefly meet and chat with some students combined with the ability to spend more time with students that they felt would best fit into their organizations. Students wanted a format that gave them a better chance to show off their project portfolio - a better chance to really show what they could do for an employer if given a chance. And employers agreed.
We shifted format based on all of the learning we had done into what we jokingly refer to as "science fair meets job fair". Rather than employers having assigned tables with students circulating among them, we flipped the model so that students each have a demo station and employers, mentors, community partners and others circulate around the room, sitting and chatting with grads as they become available, viewing demos of the student's portfolio projects, and asking questions to help assess whether the student might have a fit with the employer's organization. The new format we called Demo Day, which wasn't original to us - we ripped off the name from a couple of other coding bootcamps that were already using the term for similar graduation events.
The new format really shifted the spotlight of Demo Day to where it belongs - to the graduates and to their projects. Demo Day has become a showcase for what our graduates have learned while at NSS as displayed through their projects. And those projects are often fascinating displays of what are grads can build using their new skills as well as of our grads' interests and passions.

Even more interesting is how often grads use technologies we don't teach but that they learned themselves using the foundation we helped them build. One example we all remember fondly was Cohort 13's Demo Day, when five or six of the students showed projects that combined web applications with microcontroller applications. We don't do any teaching around Internet of Things technologies or applications but the students pushed themselves to learn and build applications that tied web applications to a traffic control system, a house plant monitoring application, a DJ application with RFID sensors tied to the physical music media, and the piece de resistance - the infamous pot roast demo where a web application monitored a real-time temperature sensor inserted into a pot roast actually cooking in a slow cooker all through Demo Day. That clever student not only built an interesting capstone project but used the smell of cooking meat to permeate our demo room and ensure every visitor to Demo Day stopped by their table to see what was going on.
Another thing we generally don't teach is mobile app development. However, many students over the past couple of years have taught themselves various hybrid mobile app frameworks that allowed them to deliver mobile applications as part of an overall web app demonstration. Many of those were built using Ionic (we teach Angular as part of our front-end development class and Ionic is built on top of Angular). Rumor has it that several students that are demonstrating tomorrow are going to show mobile apps built using Xamarin, which makes sense since this graduating class learned C#/.NET in their server-side class.
After Cohort 13 Demo Day we banned live cooking as part of student demos. And we've had to evolve the rules a few other times in response to grads finding other clever ways to drive more traffic to their demo station. A couple of Demo Days ago we had to ban the live mixing and dispensing of cocktails (small ones, but still) after a student who had been employed as a professional mixologist developed a cocktail rating application and served people trying her app small tastes of cocktails (specifically Old Fashioneds that were totally awesome, or at least that's what I heard) so that people could properly try and use her application. Same ban is coming after this Demo Day for live beer sampling in support of a beer tasting/ranking application. A grad knows they've made a real splash if their project results in a permanent Demo Day "no-no".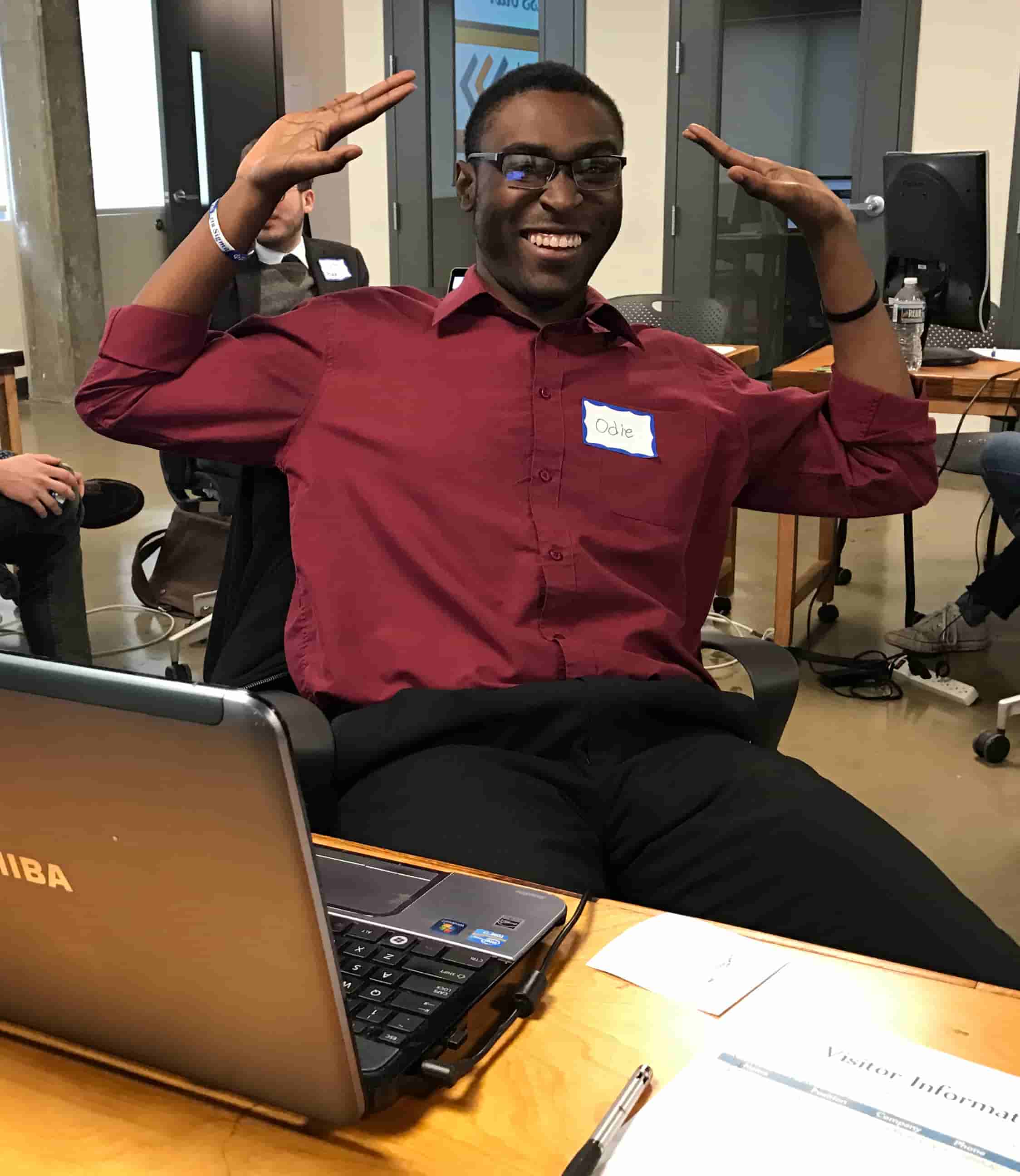 Oh, and with the advent of Demo Day, we went from Saturdays to holding the event in the midday hours of the last Friday of class. And we feed everyone. After all, even the busiest of us has to take a lunch break, so there's really no excuse for hiring managers not having time to come and meet some grads and grab lunch on NSS. (The downside of lunchtime is no beer - if we held the event at the end of the afternoon we could crack a few cold ones and celebrate graduation, but that's the kind of sacrifices we're willing to make to help our students meet employers.)
For me Demo Days are exciting because it's a major milestone in our grads' journeys from total noobs at the beginning of the bootcamp to working software developers. It's not the final milestone - the final milestone is accepting that first job offer and starting work. Well, actually some of our students achieve the goal of landing a job before Demo Day. Every class has anywhere from one or two to five or six students who already have landed jobs. Or, in one of my favorite Demo Day memories, Odigene Joseph actually got his job offer while at NSS just as Demo Day was getting ready to start - that was one happy guy who floated through the rest of his Demo Day! But for most students, Demo Day signals to the world that this person is no longer full-time student but a serious candidates to join a development team and make a real contribution.