CREATING A COMMUNITY OF WOMEN | GUYS ALLOWED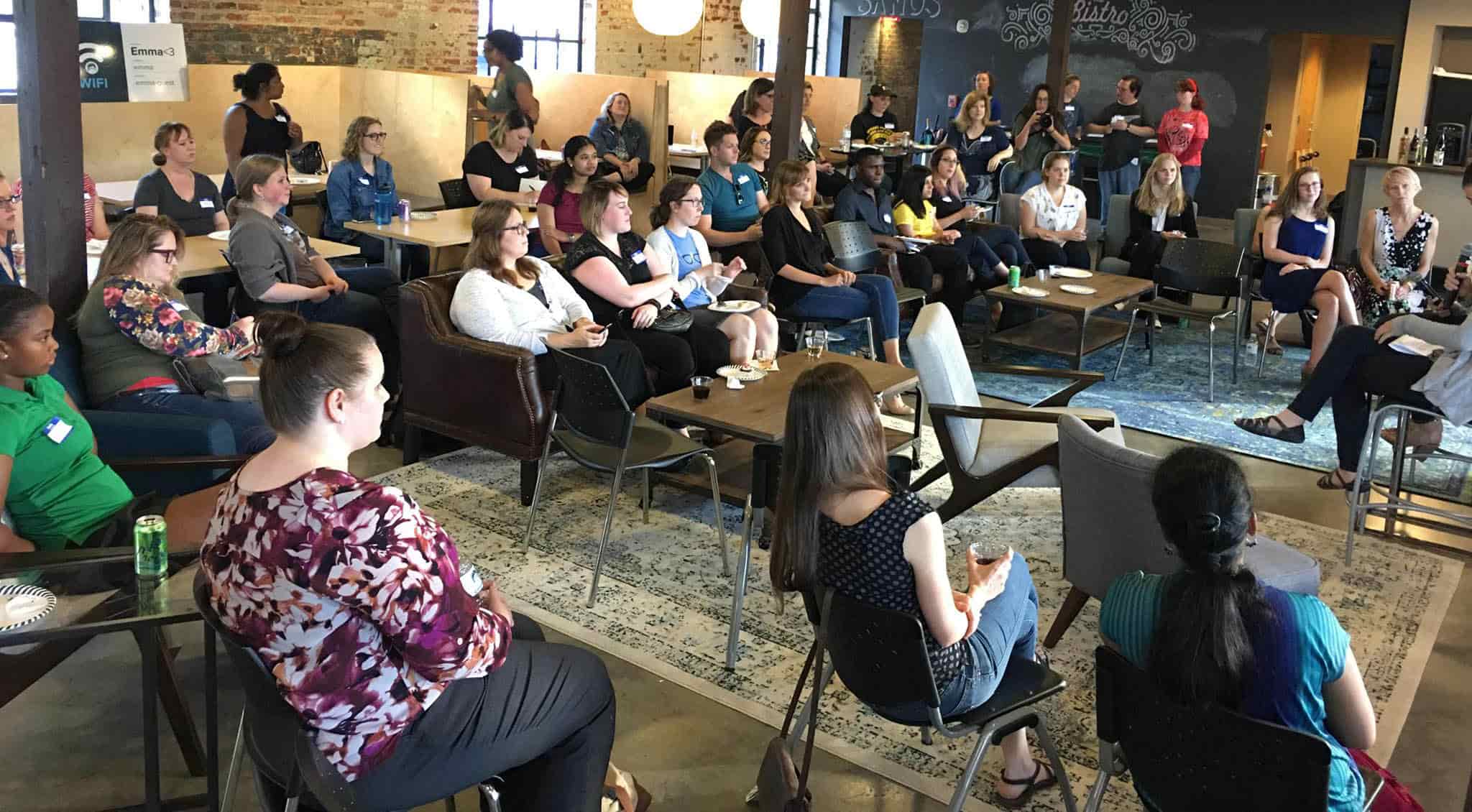 Nashville Girl Geek Dinner (Nashville GGD) was started in 2013 by Kristin McKinney and NSS alumna Rachel Werner. Kristin and Rachel found that there was a lack of networking organizations in Nashville for young women who were interested in software development or already working in the industry. They brought together a community of women to provide mentorship, networking, and education. Nashville GGD hosts two types of events, networking events and workshop events. The networking events include panel discussions, round table discussions, and lightning talks. The workshop events, called Code and Pinot, provide hands-on education and have covered topics like learning how to code, new software development methodologies, command line coding, and much more. As more networking groups have formed in town, Nashville GGD has focused more on their networking events, but still host a few workshops throughout the year.
Nashville Girl Geek Dinner's Purpose
"Nashville Girl Geek Dinner's goal is to provide a safe and encouraging place for women who share a common interest, or even just a curiosity, in software and technology, to come together to hear relevant content, network, find mentorship, and just be supported in their journey, whatever that journey ends up looking like for them," shared Kristin. "This is done in partnership with the many amazingly generous companies who have sponsored Nashville Girl Geek Dinner over these last four years."
What's been really motivating and inspiring to me, as one of the original co-founders (of the local chapter), is to see our women, and men, grow and evolve as a result of their participation in Nashville Girl Geek Dinner. In 2016, I invited Rainu Ittycheriah, a junior developer, to join me at the helm in identifying sponsors, creating content, and running events we hoped created a lot of impact. To see her grow over the course of the year she volunteered with me, was incredible! This was true for Rachel Werner too, and to see our women become some of the recognizable faces in the software community is amazing and a true testament of the commitment and intentionality of the work we do and the awesome work done by other women organizations in the Nashville community. - Kristin McKinney
Beck Cronin-Dixon found a path to software development through Nashville Girl Geek Dinner. She shared, "GGD opened my mind to the possibility of becoming a software engineer. I remember attending my first Girl Geek Dinner and meeting a number of NSS students. It was then I realized that there was another avenue to becoming a software engineer other than spending 4+ years earning a computer science degree. The connections and relationships I've made through Girl Geek Dinner are priceless and have continued to help me in my career."
So how does Nashville Girl Geek Dinner differ from other local meetups?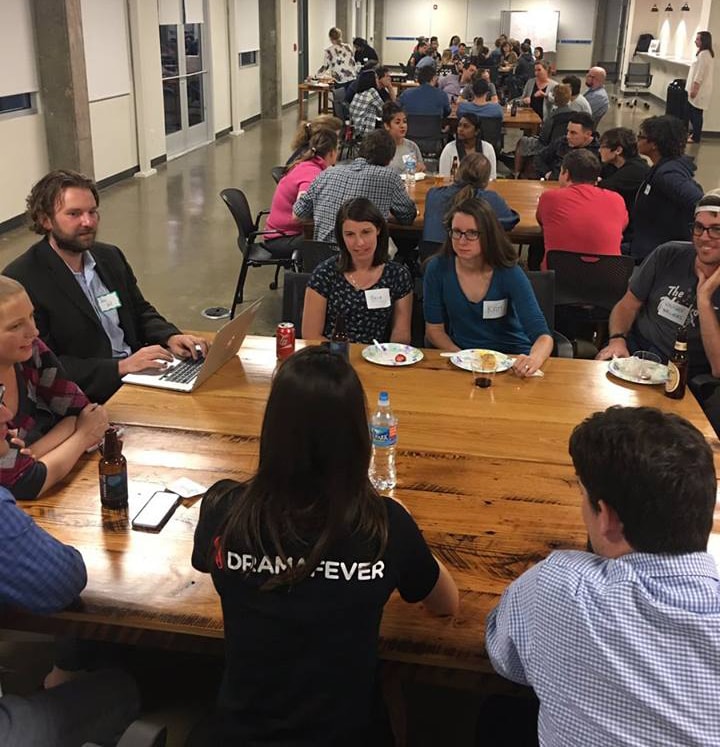 Having attended a few Nashville Girl Geek Dinner events myself, I find them to be one of the most welcoming groups in Nashville. With 35-50 attendees every month there is always some time for networking before the main event begins. Round table discussions are a favorite among guests as they provide a more intimate environment where guests can ask questions in a safer space.
Morley Banks, a senior developer, shared, "I don't often get the opportunity to work with many women in my field. For me, Nashville Girl Geek Dinner is the perfect place to build relationships through socializing and mentorship."
"About 2 years ago, my friend knew that I wanted to learn more about technology," shared Saundra Robinson, a project manager. "When she dragged me to Nashville GGD, it was so amazing and the rest is history. Nashville GGD is, and has been, a fantastic resource to me. Nashville GGD satisfies my curiosity about how technology works under the hood and at the same time it has helped me fill my IT knowledge gap which had been a challenge in my project management roles. Most importantly, I get a big thrill out of seeing so many women, young and mature, being encouraged and engaged in and learning and working in technology. Nashville GGD is super cool!"
Alisa Neal shared, "Nashville Girl Geek Dinner gives women a place where they can 'talk tech' with other like-minded individuals without the stigma attached to the stereotypical male-dominated tech settings. I have met so many lovely, smart women who have encouraged and fostered my own comfort levels with all types of tech (programming, engineering, QA, data management, etc.). We have created a "girl's club" that is focused on including everyone rather than taking over. I've been doing this for approximately 3 years now and am so grateful for the experience, knowledge, and contacts I've gained. I encourage anyone and everyone to come join us to expand their horizons."
Where I think Nashville Girl Geek Dinner is a little different than other technology meetups or user groups is that we also recognize that learning technologies or technical concepts is only one aspect of someone's career. It is so important to realize that being a developer means also understanding some of the soft skills we all need in the workplace. - Kristin McKinney
The topics at Nashville GGD have evolved with the group and the needs of the local community. Kristin explains, "One's skills as a developer is only one piece of your journey to being a developer and growing in your career." Nashville GGD goes deeper. "It's talking about mentorship, how to negotiate salaries, how to go to a networking event when you don't know anyone, talking about company issues when it comes to a rebranding and a re-architecture of a company's software solution," Kristin continued. "It's also not being afraid to tackle some of the challenges women face working in any industry and trying to bring valuable ways to help individuals really own the career they want. We want our attendees to get exposed to all aspects of what it's like to work in this industry and be supported at all levels."
Another way that Nashville Girl Geek Dinner differs from other meetups is that are very selective with the sponsors and speakers they bring in. Their event sponsors are more than sponsors, they are partners! Sponsors are given the opportunity to help shape the experience and information they want to share with the guests. This selectivity allows for guests to meet and interact with many of Nashville's leading women, and men, in tech.
More than just a meetup
This year Nashville Girl Geek Dinner launched a four episode podcast. Kristin revealed, "We wanted to take a little bit of a different approach and talk to women in our community who turned their curiosity about technology into a career in software development. We were intentional in identifying women we felt had been inspired to seek their passion through the work we were doing at Nashville Girl Geek Dinner and how their respective journeys unfolded." You can listen to the podcast on SoundCloud.
I have always loved that while this is predominantly a group supporting women that so many men have joined us over the years not only as attendees but also as our sponsors and speakers. I have seen lives change through Girl Geek Dinner and to know you are a catalyst for people is a pretty awesome experience. - Kristin McKinney
WANT TO GET MORE INVOLVED WITH NASHVILLE GIRL GEEK DINNER?
Nashville Girl Geek Dinner is always looking for people to help with their events. Each event needs volunteers to help with setup, greet attendees, and clean up after the event. Volunteering is a great way to get to know more people at the meetup and is a good way to get more involved with an organization.
Learn about upcoming events:
Don't miss Nashville Girl Geek Dinner's next event on Wednesday, August 30th here at NSS. This fireside discussion will be with key leaders and technical experts from Edgenet. RSVP on Eventbrite.
Events are held on the last Wednesday of every month. Watch Eventbrite for their latest events.
Connect with Nashville Girl Geek Dinner: