FRONT-END DESIGNER/DEVELOPER BOOTCAMP LAUNCHING JANUARY 2018
From the very beginning we have always kept our focus on the needs of employers in Nashville. In recent years we have seen quite a few of our graduates get hired into hybrid roles that combine front-end web development skills with UI/UX skills. Most of these grads either had prior design experience or took our UI & UX for Digital Product Design professional development course after completing one of our full-stack web development bootcamps.
We have been talking with local employers about their need for hybrid positions like this and as a result are launching a full-time Front-End Web Designer/Developer Bootcamp. We spoke with agencies, start-ups, and enterprise IT companies to develop and tweak our curriculum to meet the needs of their businesses and teams. The program was approved by the Tennessee Higher Education Commission (THEC) last month and we will launch the bootcamp in January 2018.
What make the Front-End Web Designer/Developer Bootcamp different from our other bootcamps?
Until now, all of our web development bootcamps have taught front-end and back-end development. This new bootcamp will teach UI/UX design in place of a deep dive into a back-end language and framework. Students will learn the basics of Node.js, the server-side language of JavaScript. You can get a look at the full curriculum on our program page.
We spoke with a couple of our graduates who utilize both UI/UX and front-end development in their jobs to help paint a picture of how these skills work together.
What does your role look like as a UI/UX designer / front-end developer?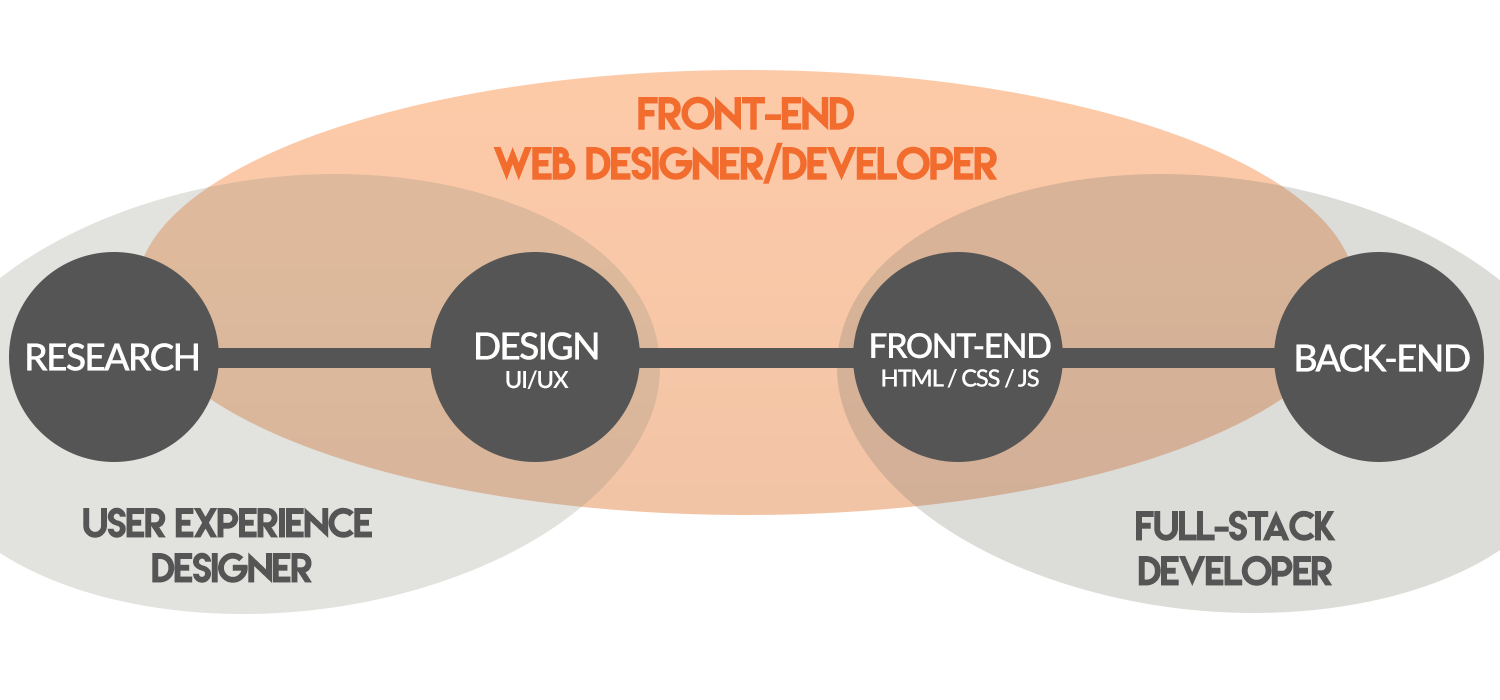 Lauren Smith works for a startup and shares, "my days can radically vary from weeks of hardcore design, to weeks of research involving user interviews and more. I've been able to have the opportunity to design websites from the ground up and also rework the user experience of pages that already exist."
Rolando Bernal works as a front-end developer for a small shop. He designs new apps that are integrated into their main product. He also customizes their product for clients, designs logos, and designs and builds full websites/apps.
How does your UI/UX design and front-end development skills complement each other on the job?
While Lauren's current role focuses on UI/UX and doesn't involve a lot of coding, she still works closely with developers. Her experience with front-end development, the tools, and platforms, helps her create designs and experiences that are actually possible to build and functional, while maintaining their user-centric design.
Rolando doesn't have a UI/UX team to work with, so he implements UI/UX principles when designing/building new websites or features for clients. His knowledge in UI/UX principles gives him a voice in design decisions and keeps him focused on the user experience as he builds an app or website.
What sparked your interest in UI/UX design/development?
Lauren grew up surrounded by developers and always had a love for art and design. She graduated college with a BFA in graphic design with a focus in web design and worked as a designer prior to attending one of our full-stack bootcamps. UI/UX felt like a natural decision to combine software development and design.
Rolando had taught himself tools like Photoshop, Illustrator, and Fireworks to learn graphic design. After attending one of our full-stack bootcamps, he was drawn to front-end development and wanted to design good, interactive digital products, not just build them. Adding UI/UX skills to his development skills helped him secure his first job as a software developer.
Are you ready to apply?
We are looking for students with a background in design through education, work or self-study.
Applications are now open and you can apply on our program page. The admissions process starts with us receiving and reviewing your application and is followed by in-person interviews (or video interviews for those unavailable to meet with us in-person). Once we receive your application, we would expect that within a week we will send you an invitation to schedule your interview.
Have questions?
Do you have questions not answered here or on our program page? Come to an upcoming info session or send us an email at info@nashvillesoftwareschool.com.