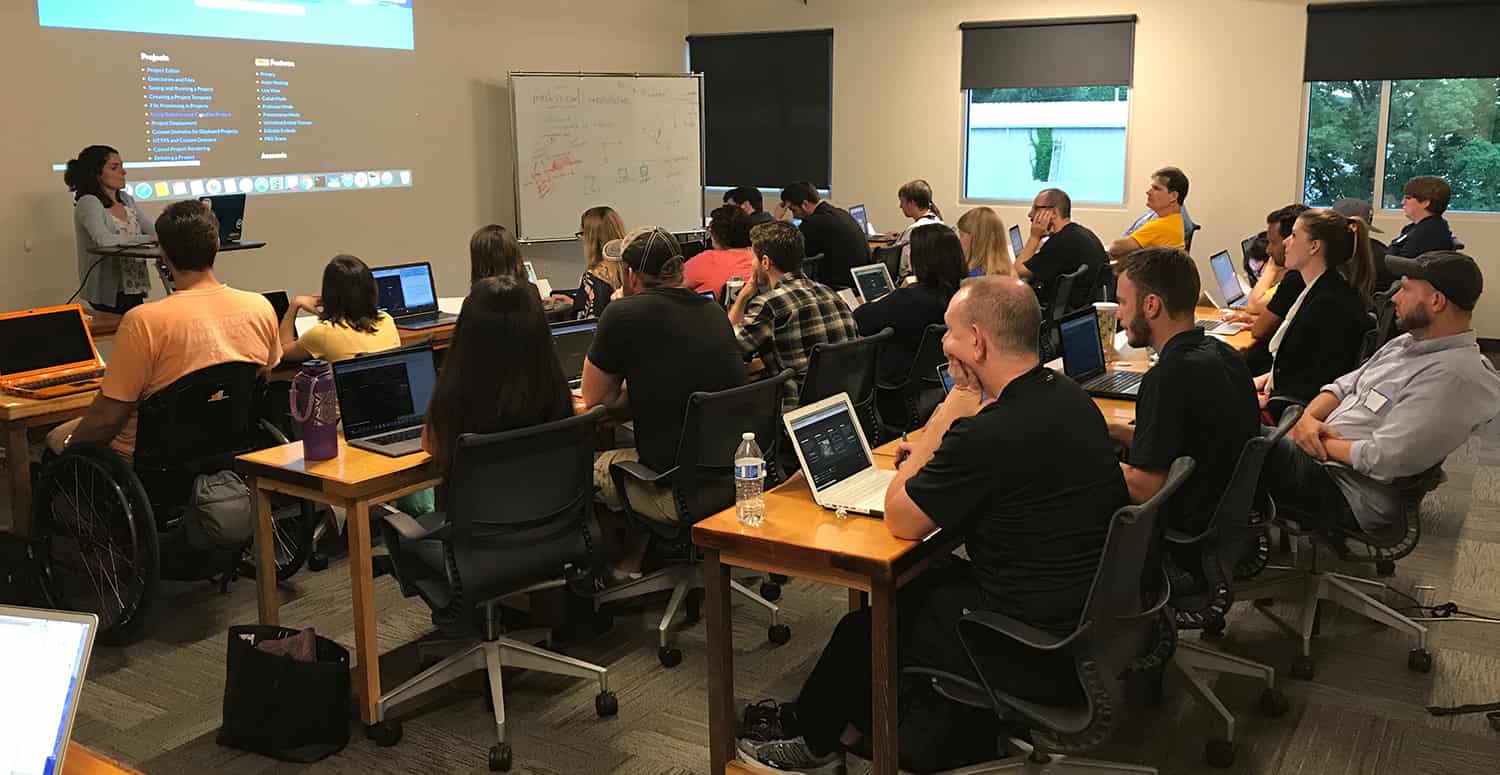 Last month we launched our first Web Development Jumpstart course. It's a three week, part-time class that gives students an introduction to web development. Our first session had 25 students eager to test the waters of web development. Students enrolled for several reasons:
Tried to learn web development through self-study, but wanted an in-person learning experience.
Curious about NSS's teaching methods and to see if the bootcamp environment would be right for them.
Wanted to learn a bit about web development to help them in their current jobs.
Already enrolled in one of our bootcamps and were using the course to help with their pre-work.
Over three weeks, the class met for two nights a week and every Saturday. By the end of the course each student was able to build a basic website. We asked a few of the students to share about their experience.
EXPLORING THE BOOTCAMP ENVIRONMENT
John Dulaney
John was interested in learning web development and enrolling in a bootcamp, but he wasn't sure if he'd even like web development. He was also curious about NSS's teaching methods. This course gave him the opportunity to experience both. John shared, "I made the decision to apply to a full time bootcamp after my 5th or 6th session of Jumpstart. The decision to submit an application (to bootcamp) is relied solely on if I knew I could learn and thrive in the environment provided by the NSS staff. Being able to get instruction from senior staff as well as from very recent grads helped show the quality of the course and the quality of its graduates."
Kimberly Bird
Kimberly was already planning to apply to a bootcamp, but she had no experience with coding. Before she left her job and committed to a full-time bootcamp, she wanted to give coding a try and experience the teaching style and environment of NSS. Kimberly discovered that she likes coding! "I learned a lot and enjoyed the assignments. I felt like not only was I learning a lot about coding, but I was testing my aptitude to be a successful coder," she explained.
(I) also loved the NSS teachers and teaching methodology. I like online learning for supplementary learning, but in-class is definitely the way for me to learn my core skills in web development."
LEARNING ADDITIONAL SKILLS
Lynn McClurg
Lynn was looking for a guided start into front-end development. She's currently a back-end developer who works closely with her front-end developer colleagues, but she always felt a bit lost when they started talking about HTML, CSS, and Javascript. She had tried self-study courses in the past, but felt like they always steered her in too many different directions and ultimately, she never learned what she had set out to learn in the beginning.
When Lynn first heard about Web Development Jumpstart, she knew it was exactly what she needed to help her communicate better with her front-end developer teammates. Lynn shared, "I now have a great toolbox to start with."
UNEXPECTED DISCOVERIES
We had another student who started the class with the sole intention of adding basic web development skills to her marketing job. After going through the class she realized how much she loves web development and is now considering a part-time bootcamp next year.
Why Should You Join Web Development Jumpstart?
Here's what our students would tell their friends: "It's the ideal way to test the waters of web development in a supportive classroom environment. You'll learn the magic behind coding and whether it's something that you'd like to pursue as a career move. The hours of the course were convenient so that I didn't have to miss any work and the assignments were so helpful to go home and put what you learned in practice (or discover that you have more questions for the next class)." - Kimberly Bird
If anyone is interested in learning Web Development or thinking about taking the full Bootcamp course I would absolutely recommend starting with the Web Development Jumpstart course. The ability to ask questions that you can't in a self-study course is invaluable...This course is also the perfect opportunity to see if you can dedicate the time needed to take the full Bootcamp course." - Lynn McClurg
"The staff was committed to each and every student in the room. (They) were 100% as engaged with the content as the students were. They would answer questions, demonstrate methods, and advise anyone who needed help immediately and happily. For…being the first class ever of Jumpstart, the amount of entry web development I and others learned was absolutely astounding as well." - John Dulaney
Ready to enroll?
We have two more session of Web Development Jumpstart planned for 2017, August and October. As of the publishing of this post on July 11th, 2017, there is only 1 spots remaining in our August class. Don't wait. Enroll today!
Given the short timeframe for this course, the most significant obstacle we had to overcome was finding a tool that enabled students to keep their focus on the core concepts of web development. In the end, we landed on CodePen for Education, which allowed students to view the instructor's code on their own machines, complete exercises, and deploy their own website, all in one place. Stay tuned for our review of CodePen for Education later this month.