Are you intrigued by web development? Web Development Jumpstart is a short course that offers students an accelerated introduction to web development technologies and careers. By the end of this course, you will have a basic understanding of the core web technologies, including HTML, CSS, and JavaScript, and be able to build and deploy your own website.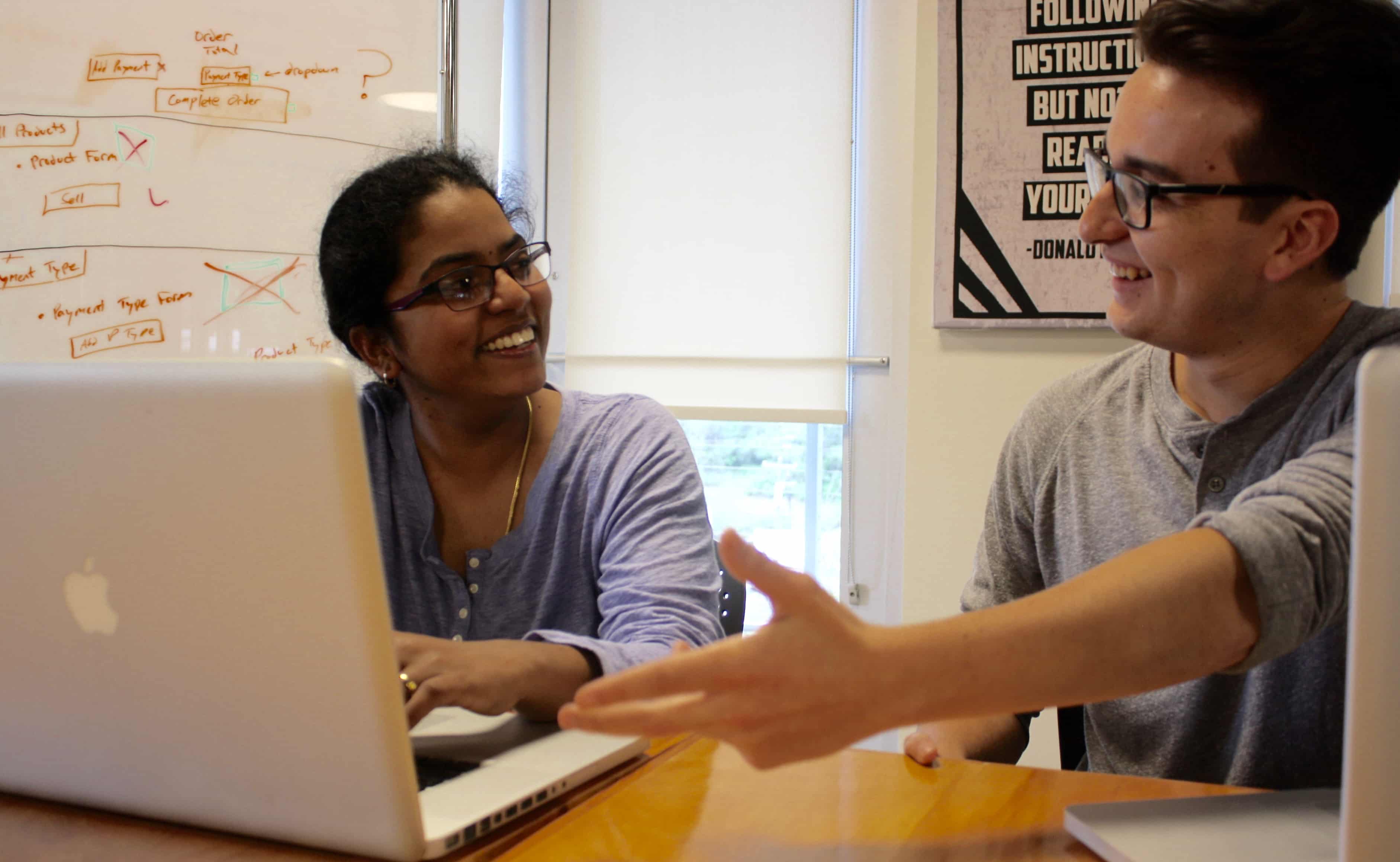 This course will demystify web development, give you a hands-on introduction to core web languages, and provide you with ways to continue learning after the course. With in-person instruction from working software developers, Web Development Jumpstart is designed to help you consider a career in software development, serve as an introduction to our bootcamp experience and be a stand-alone course to gain new skills. So, what does that mean for you?
CONSIDERING A CAREER CHANGE
Deciding to change your career can be daunting. A career in software development may be intriguing, but how do you know if it's right for you? The Web Development Jumpstart course gives you a low-cost way to test the waters of software development. By learning the basics of HTML, CSS, and JavaScript, you will be able to gauge your own interest and ability to think like a software developer. You will also learn about the different types of companies within the web development industry and the roles for someone who wants to be hands-on with technology. With this experience and knowledge you will be better equipped to decide if becoming a software developer is right for you.
AN INTRODUCTION TO THE BOOTCAMP EXPERIENCE
Once you decide you want a career as a software developer, you need to find the best learning path for you. To help prospective students see if the bootcamp experience is right for them, we have modeled the learning environment of Web Development Jumpstart after our bootcamps with a combination of lecture, live-coding, mentored exercises, and take-home coding practice. Having a taste of our bootcamp experience will help you decide if it's the right learning environment for you. As an added bonus, if you are accepted into an NSS bootcamp, we will apply 100% of the cost of Web Development Jumpstart to the cost of your web development bootcamp! If you decide bootcamp is not the right path for you, but you still want to learn more, we'll discuss other learning paths, such as self-study or traditional education.
ENRICH YOUR SKILL SET WITH HTML, CSS, & JAVASCRIPT
Not everyone wants to be a software developer, but knowing the basics of HTML, CSS, and JavaScript is useful in many careers. Whether you're a writer, marketer, project manager, business owner, assistant, or _______ (insert your job title here), Web Development Jumpstart will give you basic foundational skills that have real-world application. In addition to building a simple website, you will be able to apply your skills to design and edit email templates, customize templates from Wordpress, Wix, and Squarespace, and better communicate your ideas with front-end software developers. We will also point you to further learning tools will that help you take these skills beyond the classroom in your areas of interest.
If you want to see if software development is right for you, try out the bootcamp experience, or simply grow your skills, Web Development Jumpstart is for you.
THE DETAILS
Our first Web Development Jumpstart course launches June 5, 2017 and runs through June 24, 2017. It is a part-time course meeting Monday and Thursday evenings from 6PM - 9PM and Saturdays from 9AM - 2PM. Tuition is $475. For more information on the content and structure of this course or to enroll, visit our Web Development Jumpstart course page.