During the course of our six-month bootcamp, students create two capstones to showcase their knowledge. Their first capstone is built after spending three months learning front-end technologies such as HTML, CSS, and Angular. Each class spends another three months learning a back-end technology stack, which varies with each cohort. Their second capstone combines their knowledge of back-end and front-end technologies. For both capstones, students are encouraged to build an app or website that solves a real-world problem.
Sometimes students take their capstones beyond the classroom. Today we look at Cohort 16 student Nathan Baker's front-end capstone Tabletop Tracker. As an avid board gamer, Nathan understands firsthand how overwhelming it can be to know which new board games should get his attention. Tabletop Tracker shows you which games are climbing the BoardGameGeek, a leading website about board games, rankings the fastest.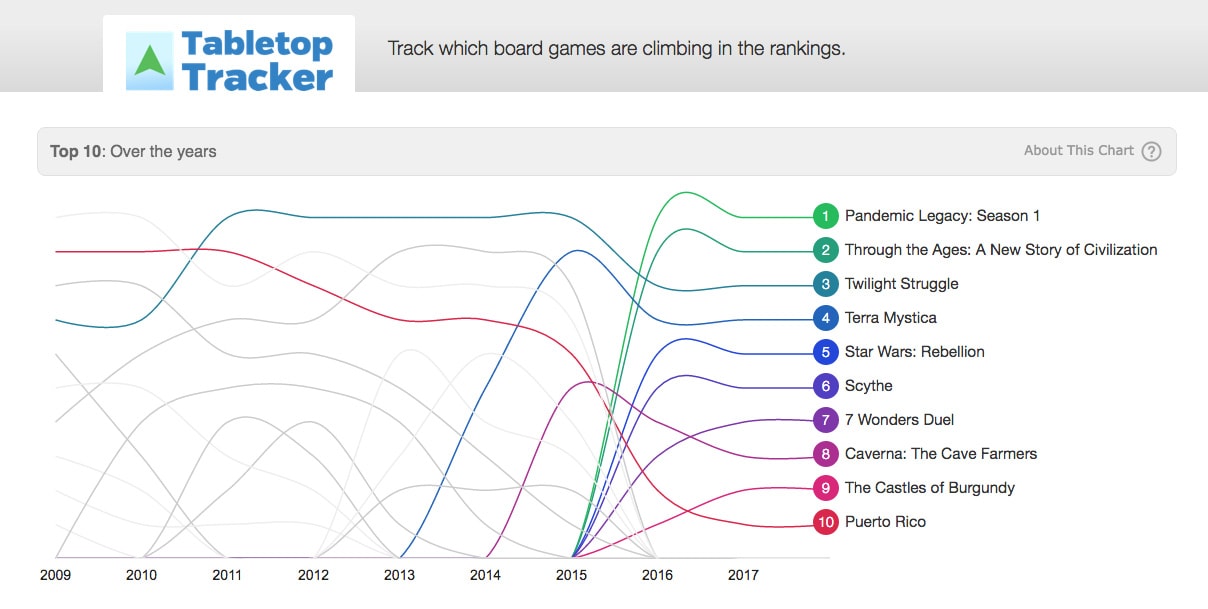 Nathan shared his website in a blog for Meeple Mountain, a network that reviews board games and meets once a month at NSS to play board games. (Psst…their next meeting is this Thursday, March 16th!)
In addition to the blog post, Nathan's website was featured in the News segment of the nationally-known The Secret Cabal Gaming podcast. The podcast is one of the top 3 podcasts about board games. Check out what The Secret Cabal Gaming podcast crew had to say about Tabletop Tracker starting around 2 hours, 9 minutes (2:09).
Nathan continues to maintain and enhance Tabletop Tracker. He is currently tracking ideas in GitHub and collecting feedback. After the release of the podcast, Nathan saw a 211% spike in traffic with over 800 unique views. He also had 23 new email signups versus 7 in the month before the podcast release.
Nathan will graduate next week along with 24 of his Cohort 16 classmates. They are busy working on their back-end capstones for Demo Day on March 23. Demo Day marks graduation day for students and gives them the opportunity to showcase their capstones to hiring managers. Meet the full class ahead of Demo Day by visiting their website.
Are you looking to hire a junior developer? Register for Demo Day on March 23rd from 11:00 a.m. to 2:30 p.m. on Eventbrite.