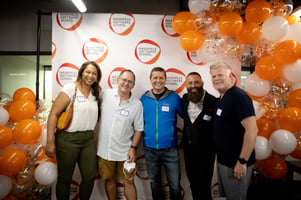 The halls of Nashville Software School (NSS) were filled with alumni and community members on Saturday, September 10th to celebrate 10 years and 2,000 journeys through the nation's first nonprofit coding bootcamp!
2022 is not only NSS's 10th anniversary, but we also graduated our 2000th student and soon, our 100th cohort! With so many milestones in one year, there was no question - it was time to party!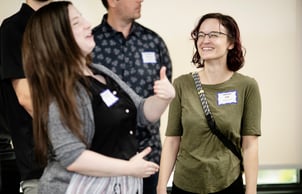 NSS alumni, instructors and current students connected with old friends over food and drink, cornhole and ping pong, and snapping some pics at the photobooth!
Later, attendees listened to remarks from founder and CEO, John Wark celebrating 10 years of NSS and the 2,000+ student journeys.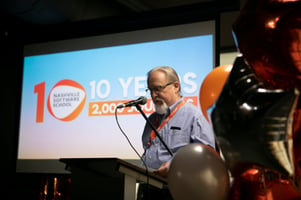 "The story of NSS is the story of our graduates and their 2000 journeys," John shares. "All of us at NSS try to remember that we work in service to our community and to our students. We serve them by providing them the opportunity to gain the skills they need to start a new career.
"Our students do the heavy lifting to learn and master those skills. They conquer their imposter syndrome or at least fight it to a draw. They deal with the frustrations of learning difficult, challenging new subjects, and they overcome all of the hurdles that stand between them and their first job in tech, including that silly ritual, the job interview. I think all of you who have beens students for giving us the chance to walk alongside you for a portion of this journey of your.
"Especially those of you who took a real chance back in the day before there was any proof that any of this was ever gonna work. The staff here, NSS, do our best to support our students as they deal with their learning struggles. And to help them on their journey as best we can. It's the students that keep all of us energized and engaged.
"So thank you all for everything you gave in the time you'd been with NSS. 10 years ago, we were the first nonprofit coding boot camp in the country, and we were one of the first six or eight boot camps. Today, we're still one of only a very small handful of nonprofit boot camps. And we're probably the second oldest surviving boot camp. Let's all try to keep working to ensure that all Nashvillians who have the aptitude and the motivation for doing this kind of work that we all do can get the opportunity to become part of and grow in Nashville's incredible tech community."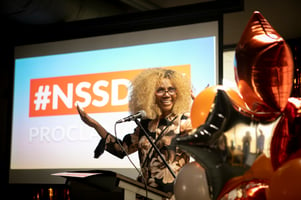 As an extra special way to celebrate 10 years of NSS, Deputy Mayor of Community Engagement, Brenda Haywood gave the official proclamation on behalf of Mayor John Cooper proclaiming September 10, 2022 Nashville Software School Day in Nashville and all of Davidson County!
Thanks to everyone who attended and made our event a true celebration! And a special shout out to the organizers, staff and alumni volunteers who pitched in to make the party a success and Inge Hooker of Music City Headshots for photographing the event!
Onward to the next 10 years of creating opportunities for pathways to careers in tech!
Check out this replay of John Wark's presentation and the proclamation of Nashville Software School Day!
Thanks to Brenda Gutman of Part-time Data Analytics Cohort 4 for helping put together this slideshow of every NSS Cohort to date! Turn it on and just let the nostalgia wash over you!