This time of year it's always fun to reflect on all we have to be thankful for! Here at NSS, we have so much that we are thankful for that it's hard to list them all out - so we've once again enlisted the help of some NSS staff members and asked them to share some things they're thankful for in 2022!
THANKFUL TO SUPPORT OPPORTUNITIES FOR OUR STUDENTS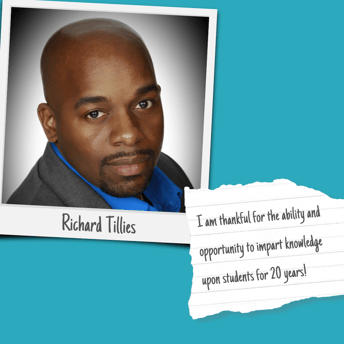 "I am thankful for the opportunity to be at NSS another year and help students find their dream job in tech. I am thankful that all my family are healthy this year and that we get to spend time together." - Marla Lamont, Director of Career Development
"I joined NSS this year and am so thankful! To have an opportunity to be a part of the journey and to support those who work so darn hard to achieve their goals to change their careers and their lives is a gift. I am also thankful for everyone here at NSS students and staff for being so welcoming and open, to be surrounded by this incredible community is humbling, I am grateful to be here with you all." - Kate Rogers, Software Engineering Program Manager
"I am thankful for the ability and opportunity to impart knowledge upon students for 20 years!" - Richard Tillies AKA Professor T, Software Engineering Instructor
THANKFUL FOR THE FAMILY AND FRIENDS AROUND US
"I am grateful for my health, family, and the privilege of being a member of the NSS team." - Ryan O'Connell, Data Program Manager
"I'm thankful for my family and friends. I'm thankful for all the time I've been able to spend outside this year. I'm thankful for the team of people I work with at NSS, it's been a busy but fun year. Of course I'm always grateful for a good cup of coffee." - Charlie Penner, Software Engineering Instructor
"I am thankful for three years of marriage to my bestie, our silly, TikTok-famous cat, our friends and family, and live music in the city that I love. I am also immensely grateful for my job at NSS. Getting to work with some of the most kind and generous people I've ever met to support an organization that continues to make an impact on the Nashville community and beyond are things I don't take for granted. Truly #blessed 🙏" - Jessica Grande, Content Marketer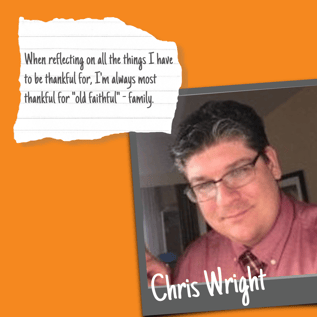 "I'm grateful for the continued good health of my friends and family and a new Taylor Swift album." - Heather Dixon, Web Development Program Manager
"When reflecting on all the things I have to be thankful for, I'm always most thankful for "old faithful" - family. I am most proud and thankful for my son's growth and success. He graduated High School and then followed in my footsteps to become a data analyst by joining NSS. I'm thankful he has discovered his path so early and is in the capable hands of NSS. I am excited to see where his journey leads." - Chris Wright, Data Analytics Instructor
THANKFUL FOR THE NSS COMMUNITY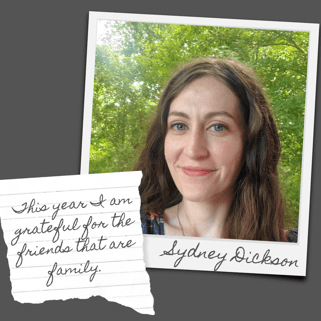 "This year I am grateful for the friends that are family. I was lucky to have an amazing cohort and instructor team at NSS, and now those teachers, bootcamp warriors, and cheerleaders are coming together for the first of hopefully many Thanksgivings together." - Sydney Dickson, Teaching Assistant
"I'm thankful for the students who place their trust in NSS and being able to watch them soar as alumni. They are why NSS continues to grow! I am grateful I get to work with a collaborative and supportive team that's driven to do everything possible to help our students succeed. And of course, this year was made extra special by the staff and alumni who helped plan and run our 10th Anniversary party! It was great to see so many alumni back at NSS!" - Mandy Arola, Director of Marketing
"I am thankful for all the members of the Nashville tech community that support NSS graduates and students. To those that give their time to participate in demo days, roundtables, mock interviews, speak to our classes, and mentor our students and graduates, I cannot thank you enough for your continued support of our students and graduates!" - Ashley Canino, Senior Career Development Specialist
"I am incredibly grateful this year to be part of the NSS community as an alumna, current student, and current employee- all at the same time! My experience with NSS is allowing me to completely transform my career path, and to be able to play even a small role in supporting others as they take similar journeys is something I am thankful for every day." - Monica Weiss-Sharp, Junior Instructor
THANKFUL FOR HOLIDAY-THEMED PUNS
"Thankful for my ops team co-workers at NSS! Any way you SLICE it 🥧 this team is amazing! No matter what comes our way, we always keeps things CASSEROLE-ing 🍲" - Aimee Johnson, Student Services / Admissions Representative
THANKFUL FOR PASSIONATE COWORKERS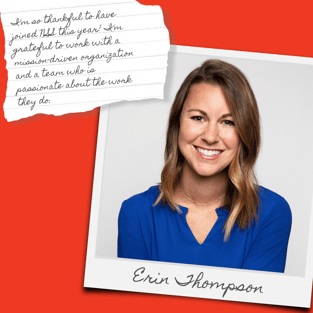 "I am thankful: That we get to work from home; for my friends, family and health; for coworkers that make coming to work fun" - Katie Kuhl, Bookkeeper / Student Services Representative
"I'm so thankful to have joined NSS this year! I'm grateful to work with a mission-driven organization and a team who is passionate about the work they do." - Erin Thompson, Employer Engagement Manager
"I'm thankful for my amazing team for always being willing to help out and for being great mentors to me. They have given me the opportunity to grow so much personally and professionally this year!" - Michael Frieh, Career Development Specialist
THANKFUL FOR YOUR SUPPORT
We can never say this enough – we are thankful to YOU - our students, alumni, our community partners, our employers, every single one of our staff members and contractors, and the Nashville Tech community. Without your support, NSS wouldn't be where it is today - 2,076 graduates strong, hired by over 500 employers. So thank you from everyone here at NSS.
AND ALSO THANKFUL FOR…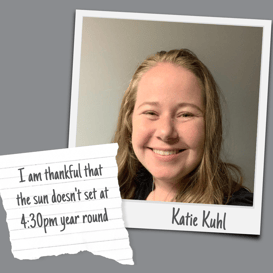 Katie Kuhl shares that she's also thankful that "the sun doesn't set at 4:30pm year round." Us too, Katie. Us too. Counting down the days until daylight saving time returns and cures our winter blues! Cheers!