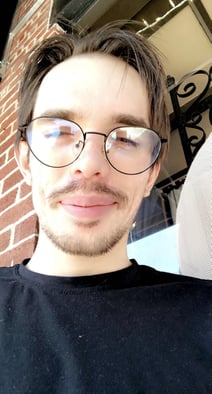 Prior to starting his NSS journey, Klay Thacker was learning welding technology and became certified to do three different types of welding. "I enjoyed the opportunity to bend and put together metal, create art projects from scrap, and learn how to think outside of the box to complete projects," he shares. "After I left the welding field, a friend of mine introduced me to software development when I was working as a software analyst. I fell in love with coding instantly when I started trying to learn it!"
Why did you choose to attend NSS?
"To seek a job that would provide a better career in the long term."
What was your favorite part of your NSS experience?
"Meeting the teachers and students."
What was your favorite capstone project and what about it made it your favorite?
"Part Partners - [My full-stack] capstone was much more fun and complete for me. I was able to test myself and use all of the skills I learned from the class to complete the project and style it to my liking. [It] was a great overall experience that helped me gain a lot of confidence as a coder."
​​What advice would you give to current or incoming NSS Students?
"Never give up."
HIRED!
Since graduating from Part-time Web Development Evening Cohort 16, Klay has accepted a job with CapGemini.
I'm looking forward to creating a better foundation for my family and to doing something I love for a long time."
Get to know more about Klay and his NSS journey by listening to his podcast below!
Meet more of the graduates from Part-time Web Development Cohort Evening 16 by visiting their class website!