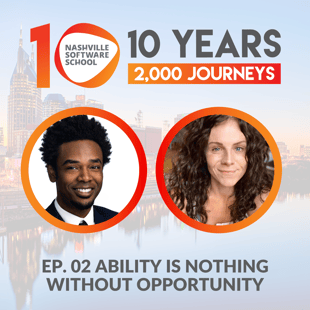 From day one, Nashville Software School saw the need for more local tech talent as a way to create paths for individuals to access high-paying careers who are financially disadvantaged or are from under-represented groups in tech. In this episode, host Clark Buckner sits down with two NSS alumni who have made the most of the opportunities available through NSS.
Quin Smith was a graphic designer looking for his big break in the industry when he discovered tech as a more viable career path. After some research and a move back home to Nashville, Tennessee, Quin applied to NSS and was offered Opportunity Tuition, our unique shared risk/deferred tuition plan. Almost three years later, Quin is working at his second tech job as an Associate App Developer at Vanderbilt University Medical Center.
Caroline Madison was a newly single mom of four, trying to stand on her own two feet when she applied for NSS. With the support of the NSS community and her motivation to provide for her kids, Caroline successfully went from "crayons to code" after 9 months of bootcamp and is now a full-time developer for eviCore Healthcare.
Check out the their stories in our latest podcast episode "Ability is Nothing without Opportunity"!
Subscribe to 10 Years | 2,000 Journeys on Apple Podcasts, Google Podcast, SoundCloud, and Spotify.