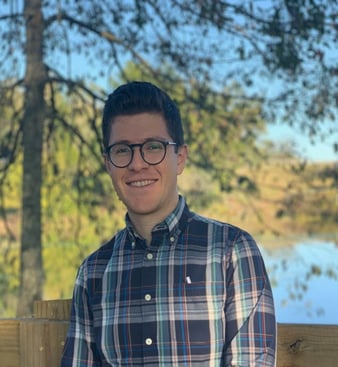 Jose Quezada of Part-time Data Analytics Cohort 5 thrived working alongside people with creative skill sets as a middle school math teacher for 7 years. "Creating and managing student portfolios attracted me towards data analytics as it became my responsibility to instruct based on my student's performance," he shares. Experiencing data analytics in his classroom motivated Jose to explore data analytics as a career path when a friend of his suggested Nashville Software School (NSS)!
What was your favorite part of your NSS experience?
"If I were to relate my 6 months at NSS to any other experience, it would be almost like having final exams week in high school but with more friends, more coffee, and the possibility of a rewarding future."
What was the topic of your capstone and how did you choose it?
"The name of my capstone is 'The Impact of COVID-19 on Employment'. My shift in careers was the motivation for my project, as it demonstrates how employment shifted across many industries during the first year of the pandemic. I used survey data from the Bureau of Labor Statistics and an API to look over at reported responses from over 500,000 businesses. As you can imagine this topic is broad and can sprout many questions, so my focus for this presentation was to offer insights on establishments telework shift, payroll decisions, and the shift in the demand for services and resources in 2020."
​​What advice would you give to current or incoming NSS Data students?
"You have to understand that many people are going to be rooting for you to succeed in this community, so take the first step forward."
HIRED
Since graduating from his part-time data analytics bootcamp, Jose has accepted a position at Accenture as an Application Development Analyst! Congratulations, Jose! We can't wait to see how your career continues to grow from here!
Hear more about Jose's NSS experience and his capstone project when you listen to his podcast below!
Meet more of the graduates from Full-time Analytics Cohort DA5 by visiting their class website!