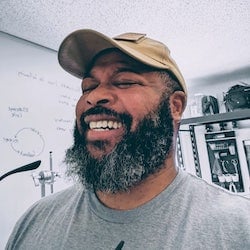 After a 20 year career in the United States Air Force, Michael Wright of Front-end Designer/Developer Cohort 51 decided it was time for a career change and looked to web development for his next step. "I retired in 2018 and started building WordPress sites for people," he explains in his podcast.
Why did you choose to attend NSS?
"I chose to attend NSS for three primary reasons: 1. I wanted to make software developer friends; 2. I wanted a structured JavaScript education because I'd hit a self-taught wall with teaching myself and building WordPress websites, and 3. NSS's curriculum seemed structured and modern — which I was right about."
What was your favorite part of your NSS experience?
"First, it's extremely difficult for me to choose a favorite part. The one thing that stands out the most about my NSS experience is the curriculum. Built into the curriculum is a pattern of lecture/instruction, attempt, and apply. What I mean by that is we were able to learn with our instructors, then we were given in class exercises to perform along with our instruction. Then, we were given an opportunity to apply what we learned with group projects and individual capstone projects. And throughout the pattern, the instructors were always there to give us guidance. I'm still very impressed by how intelligently the curriculum is put together. It's clear that the program is put together by intuitive and forward-thinking people."
What was your favorite capstone project and what about it made it your favorite?
"My first capstone project, Smilestones App, is my favorite. I have two young children, and I wanted to be able to capture their skills and growth in areas outside of traditional milestones. Things like their head circumference and weight are not as cool to me as the first time they solve a Rubik's Cube® and how long it took. So, I built Smilestones to give me a database (and user-generated content application) where I can create obscure milestones and have my children log their results. The app has milestones that can only be achieved once. For example, riding a bike and beating your dad in chess. Then, other milestones can be repeated anytime the kid wants to try for a better score — for example solving a brain teaser puzzle like the Tower of Hanoi, number of notes replayed on a Simon® game, and running 100 meters as fast as possible. The milestones have 3 primary categories: cognitive, physical, and coordination. My intent for the platform is social where I want children to be able to clap for each other's achievements. For administration, a parent controls and creates a child user's account. A parent can control what information is publicly visible on the child's account — for example, birthday and location. My ‌plans for Smilestones include features like applauding achievements, achievement motion graphics, email/SMS notification messages, uploading video clips of kids achieving milestones, and lastly, allow children to save milestone achievement attempts. I built Smilestones to make milestone achievements easily accessible and fun for both parents and children and give both a platform where the user experience is familiar and intuitive for today's digital-first children."
What advice would you give to current or incoming NSS Web Development students?
"With your off time, you'll feel like you need to be writing lines and lines of code to keep pace with what you're learning. In some moments, that's true. My advice is to read the literature -- the documentation for the languages and npm packages you're using in class. Reading the documentation gave me deeper clarity and helped make A LOT of things 'click'. In addition to outstanding instructor explanations, reading the documentation helped me grasp a lot of the WHY we use certain tools, packages, hooks, etc. The added bonus was that sometimes I could point a classmate to a resource that helped them understand a problem."
HIRE MICHAEL
Now, Michael is on the hunt for his first full-time job as a UI & UX designer after graduating from NSS! Connect with Michael on LinkedIn and check out his podcast below to hear more about his capstone projects and NSS experience!
Meet more of the graduates from Full-time Web Development Cohort 51 by visiting their class website!