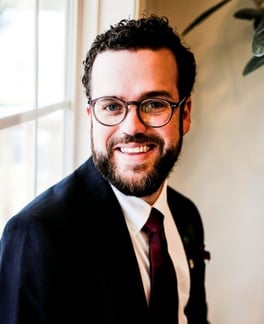 Before he was a student of Part-time Web Development Cohort 14, Jim Conner delivered technical and administrative support to partners working to solve issues related to housing and homelessness across Tennessee. "A lot of that type of work involves reporting and database administration," he explains. "[This] introduced me to how software can provide solutions to complex problems and support a variety of stakeholders."
What was your favorite capstone project and what about it made it your favorite?
"My final project, Spooked, is my favorite because it builds on the skill set and goals I had from my front-end capstone, but instead of using social services data, Spooked is all about horror movies based on my own dataset. I used a 3rd party API service for movie details, and my wife and I curated data for sub-genres and potential "triggers," so if you like horror but want to filter out movies with 'Excessive Gore' or 'Animal Harm,' we've got you covered.
My favorite part of this app was being able to build out the SQL Server database and endpoints with my own dataset. To see a little spreadsheet of movies transformed into endpoints that I could tweak and then see them rendered on the DOM was pure poetry...we just won't dwell on all the error messages along the way."
What roadblocks did you encounter along the way?
"My own brain. The biggest gift NSS and my instructors gave me was a safe place to fight my own battle with finding value in my work. Imposter Syndrome, anxiety, and stress are the most insidious houseguests that I swear I never invited to the party. Just keep pushing and you will overcome those fears of failure. I feel like I've failed every time I get some random new error message, but then quickly you realize you have the support of your team to find the solution... and then you're on to the next problem waiting to be solved!"
What advice would you give to current or incoming NSS Web Development students?
"Find people to support you and actively listen and return that gift in turn. Bonus points if they're friends in the local dev community and/or NSS grads. Lean on your cohort members for support, but strive to reach out to friends/family who are invested in your success, so that you don't feel isolated during the experience. I didn't have much (any) time for social events (plus I'm happy to just hang in my home/cave, AND there is a pandemic), but find ways to keep those relationships thriving. People who actually really do care about you will understand the time constraints/stress you're under if you forget to text back or return a call during the bootcamp, too."
HIRE JIM
Now that Jim is an NSS graduate, he is on the market for his first job in web development!
"I bring tenacity, spirit, and cohesion to my team, coupled with tech skills acquired at NSS," he shares on LinkedIn. "I'm ready to learn and grow within the field of software development."
Connect with Jim on LinkedIn and get to know him and his capstone projects when you listen to his podcast below!
Meet more of the graduates from Web Development Cohort E14 by visiting their class website!