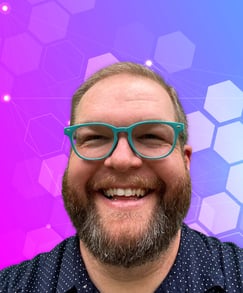 Joel Beckum of Full-time Web Development Cohort 49 began his career path studying foreign languages, but ultimately a different type of language has captured his attention for the future. "To my surprise and delight, I've found my way to working with some of the coolest languages I've ever seen," he explains. "These programming languages make the world run, and I've never been more fascinated. I can't wait to help make that happen!"
Why did you choose to attend NSS?
"I knew I had to step up my game from the self-taught curriculum I was following, and in all my research, NSS was far and away the school that cared the most for what they could help me become. Everyone here, without exception, has bent over backwards to see that I get every opportunity and tool to succeed that they could possibly give me. Seeing the professional reception NSS grads have gotten in my interviews, it's clear - we make quality devs here."
What was your favorite capstone project and what about it made it your favorite?
"My favorite capstone was Nash_IRL, my social meetup platform built in ASP.NET MVC. I was really excited to explore features like image uploading, admin authorization, and other features that could see the app mature and grow into something that could actually be deployed and used by my friends."
​​What roadblocks did you encounter along the way?
"Impostor Syndrome, mostly. This is an involved and demanding discipline, and there are definitely times when it isn't easy to feel validated in your place here. For any newcomers to the program who see this - you're going to be amazed when you look back and see what you've accomplished in such a short time. You are experts, you are engineers, and you are going to be great."
What advice would you give to current or incoming NSS Web Development students?
"Explore your code! If you copy/paste a line and you don't know what it does, check the definitions, explore the docs, ask yourself, 'What job is each piece of this doing and how does it do it?' There's a lot of stuff that looks like magic the first time you touch it, but once you peek behind the curtain, you'll realize it's all just the same code you've been writing, and you'll know you've got this, no problem."
HIRED!
Since graduating from C49, Joel has accepted his first role in Web Development with AllianceBernstein! Congratulations, Joel!
Hear all about Joel's NSS experience and his capstone projects when you listen to his podcast below.
Meet more of the graduates from Web Development Cohort 49 by visiting their class website!