This time of year it's always fun to reflect on all we have to be thankful for! Here at NSS especially, we have so much that we are thankful for that it's hard to list them all out - so we've enlisted the help of some NSS staff members this year and asked them to share some things they're thankful for!
THANKFUL TO SUPPORT OPPORTUNITIES FOR OUR STUDENTS
Our staff at NSS make it a priority to not take what they get to do here for granted. Many of our staff members have stood exactly where our students are standing and understand the weight of the opportunities they offer by teaching, coordinating, and organizing operations for NSS! Here's what some of our staff members shared when we asked what they are thankful for this year.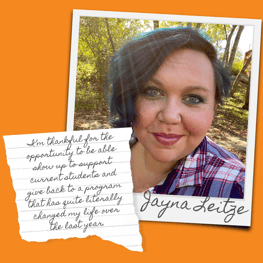 Jayna Leitze, Part-time Junior Instructor
"I'm thankful for the opportunity to be able to show up to support current students and give back to a program that has quite literally changed my life over the last year."
Sydney Noh, Part-time Junior Instructor
"I'm thankful to help people realize their dreams through NSS and find their place, just like I was able to. It's a blessing to be able to pass that gift on."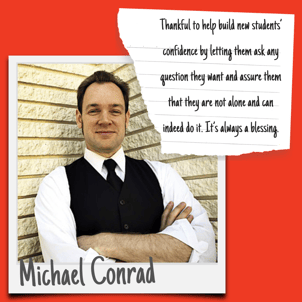 Michael Conrad, Jumpstart Instructor
"I'm thankful to be in a position to not only give back to the school that changed the trajectory of my life, but also, by teaching the Jumpstart, to be the first point of contact for many people as they take that first tentative step into a strange new world. To be able to be the one to help generate enthusiasm for the field of coding and also - and perhaps more importantly - to help build the new students' confidence by letting them ask any question they want and assure them that they are not alone and can indeed do it. It's always a blessing."
Christina Ashworth, Junior Instructor
"I'm thankful to share the knowledge that gave me a hand up in life to do the same for others!"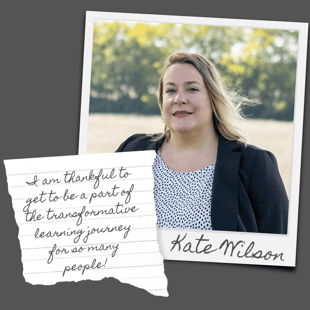 Kate Wilson, Student Services Representative
"​​​​I am thankful to get to be a part of the transformative learning journey for so many people!"
Mary Van Valkenburg, Director of Data Operations
"I'm thankful to be able to contribute in some small way to helping people learn."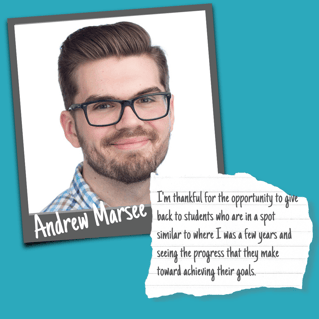 Andrew Marsee, Part-time Instructor
"I'm thankful for the opportunity to give back to students who are in a spot similar to where I was a few years and seeing the progress that they make toward achieving their goals."
Heather Dixon, Program Manager, Web Development
"I'm so grateful to have joined NSS this year! It's been a joy to meet and work with new people on the Learning Programs Team like Jeremy, Mahesh, and Deanna - and to be reunited with folks I've worked with in the past like Andy, Mary and Blaise."
THANKFUL FOR THE FAMILY AND FRIENDS AROUND US
Of course we couldn't do what we do every day without the support of our friends and family. Several NSS employees are thankful this year for those who support us each and every day.
Marla Lamont, Director of Career Development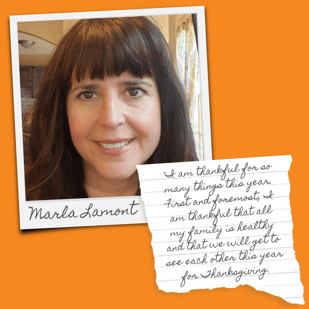 "I am thankful for so many things this year. First and foremost, I am thankful that all my family is healthy and that we will get to see each other this year for Thanksgiving."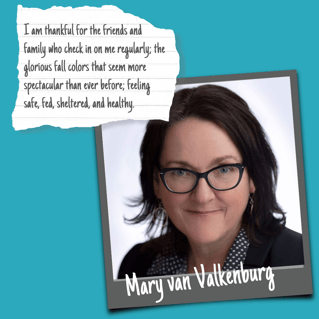 Mary Van Valkenburg, Director of Data Operations
"I am thankful for the friends and family who check in on me regularly; the glorious fall colors that seem more spectacular than ever before; feeling safe, fed, sheltered, and healthy."
Heather Dixon, Program Manager, Web Development
"I'm feeling grateful for being able to spend Thanksgiving and Christmas with my family this year. I spent both holidays without them last year because of COVID."
THANKFUL FOR YOU
We can never say this enough – we are thankful to YOU - our students, alumni, our community partners, our employers, every single one of our staff members and contractors, and the Nashville Tech community. Without your support, NSS wouldn't be where it is today - 1,663 graduates strong, hired by over 500 employers. So thank you from everyone here at NSS.
OH AND THANKFUL FOR ONE MORE THING...
Andrew Marsee shared one last gratitude that deserves mentioning, saying "I'm thankful that the Titans are good again." Us too, Andrew. Titan Up!
---
Would you like to show your gratitude this Giving Tuesday through a donation to NSS? Head on over to our GIVING page to learn more and how to donate!