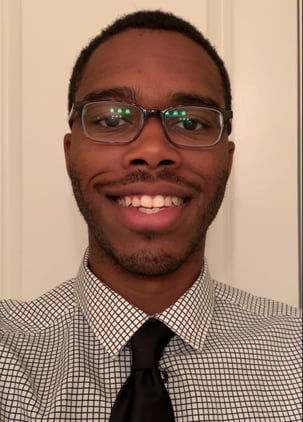 Jalon Duncan of Full-time Web Development Cohort 49 has always been driven to "serve others, regardless of the industry." Prior to the pandemic, Jalon was working as a Concert Technician which allowed him to deliver "the best lighting and sound quality available" to ensure an artist's fans had a great live show experience. Now, as a software developer, Jalon is excited to bring high quality web apps to clients and help them realize their vision!
Why did you choose to attend NSS?
"When the concert industry shut down in 2020, I figured out quickly that I wanted to get into software, but I didn't know how. I tried a few different paths, and it took almost a year of looking before I settled on the Web Development bootcamp [at NSS]. I loved the community aspect of NSS and the fact that so many alumni come back. I really saw a future with NSS, not just a small venture."
What was your favorite capstone project and what about it made it your favorite?
"I felt a strong call to build my front-end capstone, Boredom Buster. I came up with the idea the second day of class and I knew I needed to follow through with it. [During my time in the] entertainment world, I got to really experience so much of what Nashville has to offer and it is always a challenge trying to remember each gem in this city. My front-end capstone takes a bulk of the heavy lifting off of its users by accepting four parameters and matching them with an appropriate outing in the city, from bars and restaurants, to music venues, and even a laser tag arena here in town!"
What advice would you give to current or incoming NSS Web Development students?
"Take the time to network on a deeper level. Skills take time, as does confidence in what you're doing, but your career will be built on your passions and connections. Go to the meetups, ask people about their jobs and passions. You'll foster a strong support base and make far more friends and memories."
HIRE JALON
Jalon is on the search for his first job in tech! You can connect with him when you check out his LinkedIn page, or listen to his podcast below to hear more about his capstone projects and NSS experience!
Meet more of the graduates from Web Development Cohort 49 by visiting their class website!