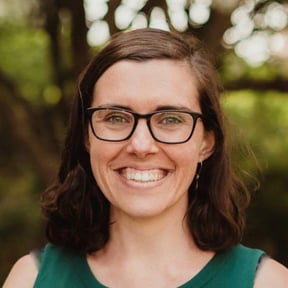 We're catching up with some of our alumni and sharing their advice for our students and recent graduates.
Before she discovered her interest in coding, Jordan Castelloe of full-time Web Development Cohort 23 was a manager at a family-owned toy store in her hometown of Asheville, NC. "I realized that my favorite parts of the job all involved database work-- pulling and analyzing sales reports, figuring out which inventory to transfer between our two stores, etc.," she recalls. One day while working at the store, their IT contractor suggested that she try coding. "I went home and took my first JavaScript tutorial that night. I taught myself for long enough to figure out that I really liked it, and then decided to take the leap and move to Nashville to attend NSS. Best decision I ever made!"
New Job with New Force
Jordan has loved Appalachia her whole life. Growing up around Asheville's mountains, she saw firsthand how many smart and dedicated people left the area or stayed underemployed because they didn't have access to high-paying jobs in the region.
"Around the same time I was teaching myself to code, I was thinking about how somebody really should figure out a pathway to tech jobs in Appalachia," Jordan shares, "I definitely didn't go to NSS thinking that someone was me-- maybe me in ten years, but this definitely wasn't my short-term plan."
Jordan's plans changed when the COO of Core10 walked into Cohort 23 at Nashville Software School with plans to launch a similar bootcamp in West Virginia called NewForce and asked for help. Jordan eagerly considered the idea and made a move. "I went up to her on a break [during class] and started talking gibberish about how excited I was about the idea and how much I wanted to help, and the rest was kind of history," she laughs. "They asked if I wanted to be the first instructor, and I decided I'd kick myself forever if I didn't go for it."
The Student Becomes the Teacher
After working at NSS as a Teaching Assistant, Jordan moved to West Virginia to teach her first cohort with NewForce. Though she prepared day and night leading up to her first cohort, once class started she quickly discovered more about her teaching style than she could have ever prepared for. "I've learned a lot about listening to each student as an individual and trying to get them what they need, even if it's different than what someone else needs."
Another lesson learned from her first cohort with NewForce was the importance of setting boundaries for herself in order to show up to teach as a happy, healthy person. "It gives my students permission to do the same. And that's honestly the most important thing to me," she smiles. "Of course I want them to graduate with the right skills and go out and get these fabulous, high-paying developer jobs, but the most important thing to me is that they're happy in those jobs, and that they're happy with the way their lives look after NewForce. Otherwise what's the point? So I try to model that, and I try to coach them on strategies that will make their first dev jobs more doable and enjoyable."
As Jordan fine-tuned her teaching skills, her NSS family was by her side through the whole process! "I think I slacked (NSS Instructor) Steve Brownlee with questions every day during my first cohort," she recalls. "I literally could not have done it without the constant, invaluable support from the NSS family."
Teaching Others - Advice for NSS Graduates
We asked Jordan how NSS graduates can help pay it forward to the next group of NSS students, and she pointed to how much she enjoyed getting to volunteer at pre-work sessions and Jumpstart! "If you're a current student, teaching other people-- in your cohort or in other cohorts-- is one of the best things you can do for your own learning experience."
Jordan shares that when she first started teaching, she felt like she had to prove she was qualified to do so by giving long, detailed answers, hoping people would see her knowledge and want her help. "Turns out that was super counterproductive," she laughs. "Now I try to start by asking questions. Everyone knows more than they think they do. If I can ask enough leading questions, usually students can piece together what they already know and get to the answer themselves. Or at least they'll get close, and then I can give them that critical piece of information that they're actually missing, rather than inundating them with all of the information ever."
Confidence through Code and Community
It wasn't just her new skills in coding that Jordan credits for her confidence to help start NewForce, but also the community she found in her cohort and at NSS.
"I think one of the most extraordinary things about NSS is how they've managed to graduate so many people and still see every single one of us as individuals. I've tried really hard to replicate that up here. I remember talking to John Wark when I was trying to decide if I should move up here to help found NewForce, and he looked me dead in the eye and said he thought I could do it. It didn't feel like it was a blanket platitude when he said it-- I knew it was specific to me because he knew enough about my interests and my background and personality. NSS had graduated hundreds of students at that point, so that level of individualization was and still is remarkable."
"I think every NSS graduate has a similar story about a time an instructor or a teammate looked them in the eye and told them they could do it. You spend so much time with your cohort and your instructors, and it's often a vulnerable and scary time. One time a student told me they felt like I was looking inside their brain. So to have someone look inside your brain and tell you they believe in you? And mean it? That becomes this deep, slow-burning confidence boost that transforms every area of your life, not just your job. It sounds hokey, but that's what I really took away from NSS, and what I hope my grads take away from NewForce."
Learning to code can change your life, but having someone look at you up-close and believe in you? That's next level.
Thanks for sharing, Jordan! We're all pulling for you and the students and graduates of NewForce.
NewForce is run in collaboration with West Virginia Community and Technical College System and Generation West Virginia and started their fifth cohort this month. To learn more, visit newforce.co.