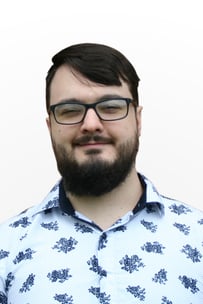 Cody Jones had been working in the restaurant service industry for over 9 years before he decided to make the leap into a more stable career when the pandemic hit. "[My time in the restaurant industry] helped me build and develop problem solving skills and management that has led me to success in my software development career," he shares.
Why did you choose to attend NSS?
"I was looking to get out of my previous career and have family in the software development field. After talking with them I started looking around for bootcamps and I discovered Nashville Software School (NSS) was the most popular and most recognized bootcamp."
What was your favorite capstone project and what about it made it your favorite?
"My full-stack project, Treasure Chest! I loved taking everything I've learned as NSS and implementing it into this project. Treasure Chest was my most challenging yet most fulfilling project and it shows me what I am capable of now that I am a NSS graduate."
What was your favorite part of your NSS experience?
"I loved the fast pace of the program. Learning something new every day and being challenged was so rewarding at the end of a sprint."
What advice would you give to current or incoming NSS Web Development students?
"Take the Jumpstart! It helped me so much in the first few weeks of understanding the basic pillars of web development."
HIRE CODY
Since graduating, Cody has begun his search for his first job in web development! Get to know more about Cody and his capstone projects by listening to his podcast below! Connect with Cody by visiting his LinkedIn profile.
Meet more of the graduates from Full-time Web Development Cohort 47 by visiting their class website!