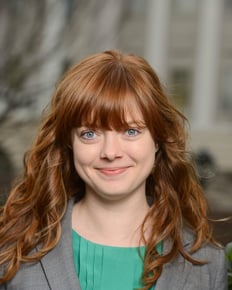 Mallory Blake had an extensive career working with admissions, recruiting and marketing in higher education when she fell in love with data analytics and reporting. Mallory shares in her podcast that she was "always drawn to data," and enjoyed using it to improve the processes and results in her previous professional roles.
Why did you choose to attend NSS?
"I chose NSS because I was looking to develop my technical skills in a supportive, first-name-basis learning environment."
What was the topic of your capstone and how did you choose it?
"My capstone topic was Tech Hubs & Brain Drain. I mapped the emergence of technology hubs across the United States from 2000 to 2017 and investigated the relationship between the growth of tech hubs and the phenomenon known as "brain drain." I chose my topic by smashing two different chapters of my life together, ha. I am from Nebraska, a brain drain state, and I've lived in Nashville (a rising tech hub!) for 11 years."
What advice would you give to current or incoming NSS Data students?
"Even if you aren't the stereotypical "tech type," you belong here! I've gotten some really rotten advice in the past, that I was too friendly, too good at communicating etc. to be "hiding behind a computer all day." Working in tech is so much more than that - I am so glad I followed my interests and pursued my certificate in data analytics!"
HIRED
Now that Mallory is a graduate of Full-time Analytics Cohort 4 she's accepted her first job working with data analytics!
I thrive at the intersection of process improvement, stakeholder communication, & analyzing data to form actionable insights.
Listen to Mallory's podcast below to hear about her NSS experience and capstone project. Connect with Mallory by visiting her LinkedIn profile.
Meet more of the graduates from Full-time Data Analytics Cohort 4 by visiting their class website!