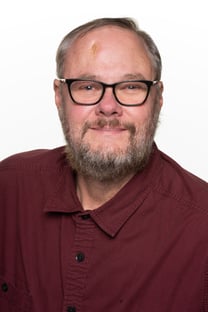 When his employer decided to relocate their entire IT team, Chris Douglass decided to attend Nashville Software School (NSS) after 12 years of being a software engineer to gain better front-end skills. "I enjoy solving problems and using technology to make tasks easier," he shares.
Why did you choose to attend NSS?
"I wanted to learn more about front-end development."
What was your favorite part of your NSS experience?
"Being around other people that were excited about learning."
What roadblocks did you encounter along the way?
"Just the time it took to get everything done."
What was your favorite capstone project and what about it made it your favorite?
"I enjoyed my back-end capstone, I liked getting to use the SQL geography field and some of the methods available."
What advice would you give to current or incoming NSS Web Development students?
"Don't become frustrated, just keep going, it will all come together."
HIRE CHRIS
Since graduating, Chris has begun the search for his next software development job! When he is not coding, Chris shares that he enjoys spending time with his son and wife.
Listen to Chris' podcast below to hear about his NSS experience and capstone projects. Connect with Chris by visiting his LinkedIn profile.
Meet more of the graduates from Full-time Web Development Cohort 47 by visiting their class website!