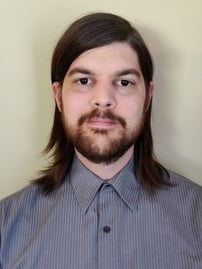 For much of his professional life, Rob Bandstra of Part-time Web Development Cohort Evening 13 has spent his career on a computer which, he admits, he has always been fascinated by. "Working on several proprietary internal software applications sparked my interest in how they were built, and how I could improve them," he explains. "I wanted to go into development because I wanted to get into a career with plenty of room for growth, continuous education, and is rewarding mentally and creatively."
Software Development allows me to make interactive websites and to do fun and interesting things with code.
What was your favorite capstone project and why?
"Final capstone, got to plan, code, and host a working full-stack project."
What advice would you give to current or incoming NSS Web Development students?
"If you have an idea what industries you would like to work in, it's not a bad idea to make your projects geared toward that industry."
What roadblocks did you encounter along the way?
"Whether virtual classroom or not, you should also work on people skills."
HIRE ROB
Rob is now on the search for his first job in web development! "I've enjoyed my journey so far, and am excited about where my software development career will take me," he shares. Listen to Rob's podcast below to hear about his NSS experience and capstone projects. Connect with Rob by visiting his LinkedIn profile.
Meet more of the graduates from Part-time Web Development Evening Cohort 13 by visiting their class website!