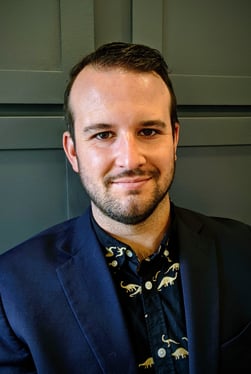 Growing up, Alex Prieu of Web Development Cohort 46 spent his days hiking trails and exploring parks. He shares that biology always came naturally for him and his love for learning about nature led him to work as both a Park Ranger and Zookeeper after college. "In both positions I often found myself being more technologically interested than my colleagues and was usually the one to fix old electronics and troubleshoot new equipment," he explains. "I welcomed the idea of sensors and programs that could automate the work for us and we could monitor those systems adjusting parameters to make them work as efficiently as possible."
This interest followed Alex everywhere as he taught himself most of what he knew about computers in my free time and love making tech projects at home too. "When I started grabbing code from GitHub and learning that I could write code too, I knew then that I wanted to make a career switch," he remembers.
My goal as a Software Developer is to design applications for the future and to increase the efficiency in our lives both time and energy, while mitigating the loss of our natural resources.
What was your favorite capstone project and why?
"My final capstone. I was able to create a fully functioning app with a client and server side and had some big breakthroughs on understanding logic and how to make my code work."
What advice would you give to current or incoming NSS Web Development students?
"No question is too silly; if you want to know something, ask away. Many times someone else will benefit from you asking too."
Why did you choose to attend NSS?
"I chose NSS so that I would have an entry into the tech world and have mentors I could bounce Ideas off of and to make sure I had good learning habits."
HIRED!
Alex recently accepted his first job in web development! Listen to Alex's podcast to hear about his NSS experience and capstone projects. Connect with Alex by visiting his LinkedIn profile.
Meet more of the graduates from Web Development Cohort 46 by visiting their class website!