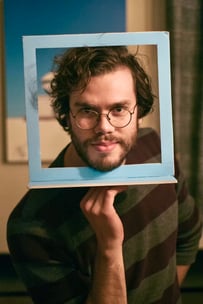 Born and raised in Nashville, TN, Alex Martin of Full-time Web Development Cohort 46 has always enjoyed the technical side of things. When he began to work his way through different positions in the music industry, he discovered his love for learning how things work!
"I slowly [found] myself in more and more technical roles - editing, producing, recording - until I found a special niche that serves both my fascination and the musician community, building and repairing guitar amplifiers while studying electronic engineering," he explains. After studying what he considered to be the "digital counterpart of circuit building with Python and JavaScript," Alex decided to commit to a full-time, six month web development bootcamp at Nashville Software School.
What advice would you give to current or incoming NSS Web Development students?
"If you have not worked in a software engineering job and want to in six months, this is the best way to do it. You will be frustrated, but that's part of it. Get as much practice as you can before the job - there are lessons that cannot be learned other than by writing code and collaborating with others. That's really hard to do on your own."
What was your favorite capstone project and why?
"[My full-stack capstone, called] Oil, because I built an app that I'm actually using!"
HIRED!
Since graduating, Alex has found his first job in web development! Listen to Alex's podcast to hear about his NSS experience and capstone projects. Connect with Alex by visiting his LinkedIn profile.
Meet more of the graduates from Web Development Cohort 46 by visiting their class website!