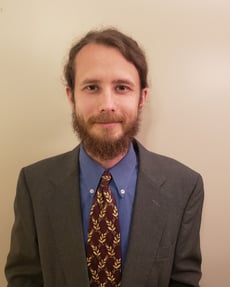 After teaching for the past 6 years at a private school, Daniel Eaton found a revived interest in science and yearned for a challenge academically and professionally. As he began to consider furthering his education, he found Nashville Software School (NSS).
"I have always found a home in questions and in thought. In work and in life, there have always been whispers of the world behind things, of the ways they interact," he explains. "Teaching sparked new interest in the sciences, math, technology and in our evolving world. These converged for me when I found this program, these instructors and the family that is NSS."
Daniel shares that he felt the opportunities presented to him during his time in Data Science Cohort 4 to learn from local organizations and to collaborate with others was "invaluable." "Any one of my classmates would make a stellar member of your team," he smiles. "I am so excited looking ahead to the possibilities of data in our lives, and for those who will come after."
How did you choose the topic for your capstone project?
I'm interested in the dynamics of knowledge and learning around the world, and wanted to look at articles in two spoken languages before expanding the research to more.
What advice would you give to future NSS data science students?
Make a habit of reviewing past projects, code and walkthroughs, and follow your curiosity as you build your analysis of a topic. Also, keep a list of solutions to errors, as they often relate and this will help you form a working knowledge of the mechanics of a language.
What was your favorite part of your NSS experience?
The best part for me has to be the opportunity to learn from these talented teachers, who are so invested in our development, technically and professionally. This helped me see the growth happening at points along the way and build from there.
HIRE DANIEL
Since graduating, Daniel has embarked on the search for his first job in data science! Listen to Daniel's podcast to hear about his NSS experience and capstone projects. Connect with Daniel by visiting his LinkedIn profile.
Meet more of the graduates from Part-time Data Science Cohort 4 by visiting their class website!