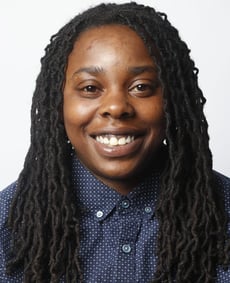 Valencia Gooch of Full-time Data Analytics Cohort 3 describes herself as "extremely motivated, hard working individual." After moving back to Nashville to be closer to family, Valencia sought to return to tech. She boasts of her time at NSS as being beneficial to helping her gain real-world experience while building her portfolio to showcase her use and understanding of analytical data and tools, such as SQL, Python, Tableau, and Power BI, to make informed decisions and present information that is easy to understand and relatable.
Why did you choose to attend NSS?
"I chose to attend NSS because I was looking to pivot back into the tech world. NSS helped me build my portfolio, sharpen up on past coding skills, and add to that skill list as well."
How did you choose the topic for your capstone project?
"Financial Literacy is something I have always been passionate about, so I followed my passion."
What advice would you give to current or incoming NSS Data students?
"Ask as many questions as possible. The instructors are there to help and do a great job and make sure you are successful."
HIRED
Since graduating, Valencia is now working as a Data Engineer at Spiny.ai! Listen to her podcast to hear about her NSS experience and capstone project.
Meet more of the graduates from Full-time Data Analytics Cohort 3 by visiting their class website!