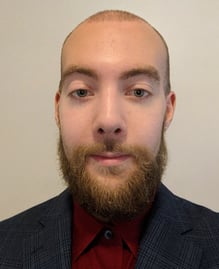 "It's hard to find something that you're truly passionate about, but I truly feel athome when working with data."
In previous jobs, Brandon Morgan of Full-time Data Analytics Cohort 3 shares he was always "working around data," via sales reports or in conversations with management. "I wanted to learn more about data and how it was used in businesses to make decisions, and that's what led me to look for ways to get into the data analytics field."
Why did you choose to attend NSS?
"I chose to attend NSS because I knew it was a quality school. My sister and brother-in-law both attended and recommended it, and they offered a bootcamp for the career I wanted to transition into. The community and trust that you build with others while going through the bootcamp is irreplaceable in my mind."
What advice would you give to current or incoming NSS Data students?
"Be prepared to Google. Google is your best friend, no matter how simple the question is, it's always worth Googling. Also, don't be afraid to ask the instructors and your fellow classmates for help. You'll find it becomes easier with time."
Listen to Brandon's podcast to hear about his NSS experience and capstone project. Connect with Brandon on his LinkedIn page.
Meet more of the graduates from Full-time Data Analytics Cohort 3 by visiting their class website!