MEET BILLY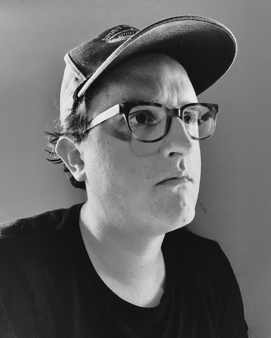 Billy Campbell was a live sound engineer working on Broadway in Downtown Nashville when he found himself at a crossroads in his career. "I could go on the road, start running sound for bigger acts and live that life, or I could reevaluate where I was and try something else. I chose the latter, and began looking at other career opportunities," he remembers. Around that time a friend and recent graduate of Nashville Software School (NSS) suggested he check out the bootcamp for himself. "It honestly seemed too good to be true, so I wanted to see for myself," he smiles. "Spoiler alert, it's true. This school is amazing."
THE NSS EXPERIENCE
During his time in Part-time Web Development Evening Cohort 12, Billy enjoyed getting to work on group projects with his classmates and solving problems together as a team. But, as with learning any new skill, he encountered roadblocks along the way. "I found that while working on these projects, the roadblocks were kind of the point," he laughs. "They help you learn more than anything [else], and the feeling of overcoming one is one of the best!"
When asked what advice he would give to current NSS students, he shared the importances of completing the pre-work before boot camp and coming into class with an open mind!
It takes a second to grasp how to think about this stuff, but you'll get there eventually, and it's so fun when you do!
CAPSTONE PROJECTS
For his front-end capstone project, Billy created Recordz, an application that allows vinyl enthusiasts to store, organize, view and listen to their record collection. "I used React on the front-end and taught myself hooks throughout it," he explains. "We had kind of just grazed over the topic of hooks during class, but it seemed like a better way to use React, so I wanted to teach myself how, and I'm so glad I did. It's way easier."
EconoShows is Billy's back-end capstone that he built using Python and Django.The application was born out of his experience in the music industry as a live sound engineer and booking gigs around the city. "I'm in a band and I have a lot of friends who are in bands and we all enjoy going to each other's shows, but no one likes using Facebook to keep track of all the events," he explains.
To remedy this, Billy created a social hub for bands, venues, and fans to see what shows are happening where. Billy shares that "if you're a band looking to book a show, you can find a venue looking to book a band through EconoShows." Once a band is booked for a show at a venue, they can create a Show Event page that will get added to the venue's website that alerts fans using the application as well.
HIRE BILLY
Since graduating, Billy has been improving his back-end capstone. "I want to make it publicly available for my friends and I to use," he shares. "I think it's capable of solving a lot of common sense issues around finding and booking shows that I've come across as a musician in Nashville and I'm excited to see if I can get people to use it."
Billy is looking forward to finding his first job as a software developer! You can learn more about Billy by viewing his LinkedIn profile or listening to his podcast.
---
Check out all the recent grads at Part-time Web Development Evening 12's class website and hear the graduates share their experience at NSS and capstone projects in their podcasts below.