MEET JOSHua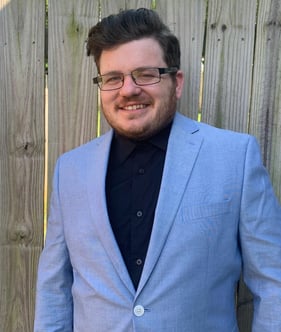 Joshua Medlen was working as an equipment operator for Metro Nashville Public Works before he decided to make a career change. "I have always had love for technology and always sought to better understand and gain more knowledge in it," he recalls. Joshua's step-father, a QA Engineer for SmileDirectClub suggested he check out Nashville Software School (NSS) after having worked with graduates from NSS.
"I took the Web Development Jumpstart, enjoyed what I experienced, and took the plunge [into bootcamp]" he smiles.
THE NSS EXPERIENCE
During his time in Web Development Evening Cohort 12, Joshua liked interacting with his instructors, but most of all, enjoyed getting to connect with his peers in class. "It was a joy to work in teams with such wonderful people and I have to say they made the journey so much better along the way," he remembers.
Joshua shares that he began experiencing a lot of doubt and imposter syndrome when his cohort began learning the back-end technologies. Fortunately, his TAs helped him through those feelings. "Honestly, come capstone time everything just started to 'click', so most of the back-end hemmed me up quite a bit. But overall imposter syndrome is a real thing," he shares. Having experienced the pains of imposter syndrome, Joshua urges new NSS students to push through and use the resources available to them such as their TAs, instructors, and peers.
>>> "Don't be afraid to ask for help and don't give up. Imposter syndrome is rough, but I promise it will start connecting with you. Ask the TAs and the instructors for help. They are wonderful and there to help. Use your fellow students as well. All these things will help you, I promise. They helped me."
CAPSTONE PROJECTS
For his front-end capstone, Joshua built Gamer Log, an application for gamers like himself. Gamer Log lets players keep extensive notes about their progress in single-player games. "Burnout is real on single-player games," he explains. "Putting [many] hours into a play-through [then not playing] for a while can be a disaster if you can't remember anything you did in the game. Gamer Log's journal tool is there to remedy that."
Once they resume playing a game, gamers can reference their notes to remember what they had completed during their previous play-through session. "I used React for the front-end and used Google Firebase for back-end and to deploy," he explains.
Joshua's back-end capstone was inspired by a need for his brother's employees to be able to access payroll and benefits information for the company. "They currently do not have an application for employees to do self-service things such as check their benefits or check their pay stub," he shares. "I decided to make something that could serve as an example." What a good brother! Joshua created his back-end capstone using React and Python/Django.
HIRE JOSHUA
Since graduating and beginning his hunt for his first job as a developer, Joshua has wasted no time in starting new projects to keep his new skills sharp. "I'm starting on a dungeon master dashboard to manage Dungeons And Dragons campaigns that they have created, as well as handle notes and info on that campaign's players," he shares excitedly.
I love helping others with problems and the opportunity to look into someone else's world and see how they write code and decipher it and help solve their issues has been exciting and has made this field more attractive than ever.
Learn more about Joshua by viewing his LinkedIn profile or listening to his podcast!
---
Check out all the recent grads at Part-time Web Development Evening 12's class website and hear the graduates share their experience at NSS and capstone projects in their podcasts below.