MEET HAILEY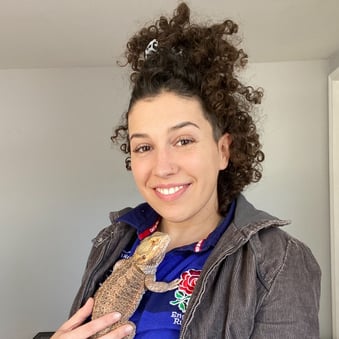 2020 was Hailey Rissolo's year to travel, that is, until COVID-19 changed her plans. After arriving back home from Australia, Hailey was deciding what to do with her year now that she had all of this time on her hands. That's when a friend suggested she check out Nashville Software School (NSS), which wasn't something she had ever thought of for herself. "I'm definitely tech savvy. I never expected to get into coding," she recalls. "I've definitely always been on the design side. But [coding has] been a lot of fun!"
With a Bachelor's degree in Multimedia Design, the Front-end Web Designer/Developer bootcamp was a perfect fit for Hailey.
THE NSS EXPERIENCE
As a part of Cohort 43, Hailey shares that she was skeptical about the remote learning environment at first, afraid she wouldn't get the full NSS experience. "But being in Zoom meetings with everyone and being able [to send] slack [messages] to all of my classmates, it's fun! I feel like it's been very hands-on and the instructors are all awesome," she smiles.
I really love the every-day, going back and forth between 'wow I have no idea what I'm doing right now,' and then getting one button working and feeling like I'm on top of the world.
When we asked what advice she would pass on to current students, she shared "Give yourself pats on the back every step of the way. Learning code is hard!"
CAPSTONE PROJECTS
A month into bootcamp, Hailey adopted a bearded dragon, named Papaya, from one of her classmates. Papaya became the muse for her first, front-end capstone project, Repti-Romance. Hailey custom styled this fun, reptile-date-matching application. "I did consider my users while making this app, and when you hover over images of these different reptiles, there is a big magnifying glass for the reptiles that can't see very well," she laughs. Repti-Romace was built using React.js.
Being a part of the UI/UX track of Cohort 43, Hailey's second capstone is focused on creating an application which considers the users' needs and experience. "My clients own a health care business where they intake residents in different houses," she explains. "The app they used prior to the one I designed, was huge and hard to navigate. I simplified the app and made it easier to navigate." By making Gratitude Houses an easier application to use, Hailey was able to include features which organized residents into different tables as well as create an application form which saves to the app's database. Gratitude Houses was built using React.js and the Semantic UI component library for styling.
HIRE HAILEY
Since graduating, Hailey has been working to complete some stretch goals for Gratitude Houses while she searches for her first job in front-end web development or UI/UX design. "I really enjoy writing JavaScript and I have a lot of experience and background in design. I am always willing to learn more."
I find fulfillment in problem solving, working on a team, and being presented with new challenges. I'm excited to be in a field with plenty of potential to learn more.
Learn more about Hailey by visiting her website or listening to her podcast!
---
Check out all the recent grads at Full-time Web Development 43's class website and hear the graduates share their experience at NSS and capstone projects in their podcasts below.